Monster High embroidery designs


Monster high embroidery – Machine Embroidery Collections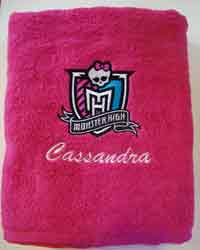 An array of machine embroidery designs which are suitable for specific machines are offered by many reputed online hubs. These designs are represented by the effort of differing complexity. All the available embroidery designs are very well tested for the different machines. They are also available for instant download and that too in over ten formats for different machines. This designing has now become a famous hobby among all.
The designs available are either free or paid. The free designs can be easily downloaded then itself. The paid ones require few more formalities which include safe and secure payment for the respective designs ordered. Among the designs, the monster high embroidery domain or collection is a popular one. The designs include Rochelle goyle, monster high logo, monster high Frankie, monster high draculaura relax, monster high draculaura badge, monster high draculaura and monster high badge. The price of all these ranges from five to ten US dollars, which is very economical when compared to other providers.
Among these designs, the monster high Draculaura design with machine embroidery is the most accepted one by the customers. It is ranked high and the cost of this monster high is very affordable. It is available in various sizes like 98 x 94 mm – 3.86 x 3.6" and 119 x 113 mm – 4.69 x 4.45". It is available in nearly eight colors in Embroideres.com.
The formats in which this monster high embroidery design can be downloaded are art for bernina; pes, pec and phc for brother; jef for janome; exp for melco; vp3 and vip for PFAFF or Husqvarna; xxx for singer; shv and hus for husqvarna' nad dsb and dst for barudan or tajima. The formats vary according to machine used.
Like monster high, there are other designs too such as Anime, Blues Clues, Bolt, Cars, Aladdin, Bambi, Aristocrats, Betty Boop, Bob the builder, 101 Dalmatians, Alice in wonderland, Casper, Barbie, Chip and dale, Flushed away, Christmas embroidery, Flintstones, hello kitty, ice age, Hercules, dumbo, fairies, green kiko, Dora explorer, handy manny, finding nemo, Disney cuties, chococat, go Diego go, diddl, Doraemon, Lego, little chicken, Pok?mon, peppa pig and many more.
Last photos 
All photos with our embroidery designs in Gallery
Look at a huge number of beautiful and successful real projects with our work. You can us tags for search.