Comments
Posted by
skeenah
on
Sep 9th, 2013
I was trying to buy the batman logo and the nike logo, but the only thing that shows up in my cart is the batman logo. How do I get the nike logo?
Posted by
Support
on
Sep 14th, 2013
Nile logo have in free logotypes embroidery collection. If your account have bonus design, you can add these logos and click Payment from account. After that you can download these designs from account.
Posted by
blkberg
on
Mar 7th, 2017
Can't tell what size am buying?, how do you tell?
Posted by
Support
on
Mar 7th, 2017
blkberg For one payemnt - all sizes.
You must be logged in to leave a reply.
Login »
We accept payments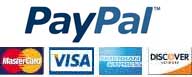 Instant download


  Tested design


  Any formats


  No VAT and FEE
New embroidery projects
New free embroidery
available only for customers
Latest logotypes
sport, auto, food, drink, car, fashion, colleges, entertainment, social, market, business
Last review
Embroidery, equipment, software and trend news.
Last photos
All photos in Gallery