Butterfly and Dragonfly free embroidery designs
Orange lace butterfly free embroidery design
Properties:
Size: 74 x 76 mm, 2.93' x 3.0'
Colors; 1
Stitches: 5256
Digitizer: Igor Denisov
Properties:
Size: 97 x 99 mm, 3.82' x 3.91'
Colors; 1
Stitches: 6681
Graceful and airy, butterfly designs remain rightfully popular. They are beautiful and to the point, always here to enhance your clothing, household items or interior decor. This embroidery design features a golden lace butterfly meticulously performed in great detail. The one-colored design will be a gorgeous addition to cushions, pillows, napkins, tablecloths or clothing and accessories such as dresses, denim items, T-shirts or leather bags. It's going to look luxurious on any dark background, for example navy blue or black. The application is easy to attach to all sorts of suitable fabrics.  
Comments
No comments. Leave a comment ...
You must be logged in to leave a reply.
Login »
How can this design be used.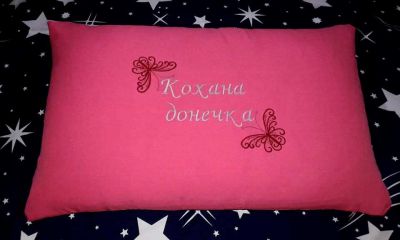 In the interior is important every detail. Small but spectacular accents that can draw attention to themselves, emphasize the character, style of design, provide him with maximum comfort and comfort can make it attractive, originality. One of the ideal elements are pillows, which will find their place in the interior of the house, car. These products in a large assortment are offered in stores. But they are of the same type, do not provide the interior with originality, individual character. To give the product an exclusive look, you can buy embroidery on pillows in our company.
These decorative items are used not only in the home interior. The logo on the pillow can be a spectacular element of the interior of a fashionable hotel room, such items are ordered to decorate the car's interior.