Monograms embroidery digitizing in software
Object Manager with Texts and Object Tree View
The Object Manager shows up at the right side of Embroidery Office Design digitizing software. These utilities offer you alternatives for the visualization of the element being created or edited, or to visualize the sequence view, or to block or show/hide some of their parts or features. Once you have the text in the Graphical View, you will be able to edit freely the shape of each character; to do so just click on the character; the nodes that define its shape will appear.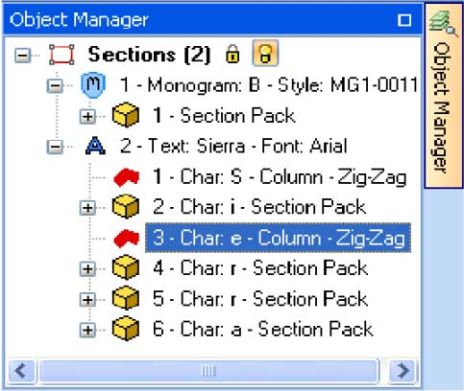 In this window you can visualize or modify, from the different edition modes, several aspects of the active machine embroidery design, though its most important function is the total control of the main properties of the sections, since you will be able to control many stitch parameters that affect the generation of embroidery stitches.
These properties define embroidery fill type, and the values of underlay, controls and available effects.

You have the chance of editing characters as if they were sections: you will be able to drag nodes, delete them, create new ones, etc.
Object Inspector
The window is organized in different panels, which we will describe next:The correct use and configuration of the section's properties will be one of the decisive factors in order to achieve satisfactory results in less time, getting the most out of Embroidery Office Design software for digitizing ans editing designs.
Object Inspector organization
From the edition mode the Object Inspector shows, from its different tabs and drop down panels, all the properties that can be used in the selected design section. These properties depend on the type of section you are selecting, and they are organized according to their functionality. Editing a Column section, you will find several tabs.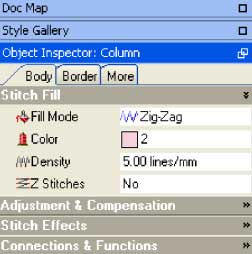 On the Body tab we find:
Stitch Fill: controls the section's main properties (type of embroidery fills, lenght, density, pattern).

Adjustments & Compensations:

Controls the fabric underlay, the pull compensation, the stitches overlap, internal paths, etc

Stitch Effects:

Different distortions that can be applied to the stitches.
Connections & Functions: Manages the optimization (exit and enter points in embroidery block)  and lock stitches of the entry and exit points, the machine controls, the cut at the end of the section, etc.
In the Border tab appear several properties that control the fill in the section's outline, while in the More. tab you will find the ones referred to the size, embroidery sequence, connections and functions. Also, in the Object Inspector window title you can see the description of the section type selected.
Comments
No comments. Leave a comment ...
You must be logged in to leave a reply.
Login »
We accept payments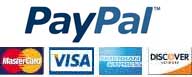 Instant download


  Tested design


  Any formats


  No VAT and FEE
New embroidery projects
New free embroidery
available only for customers
Latest logotypes
sport, auto, food, drink, car, fashion, colleges, entertainment, social, market, business
Embroidery Trend
Add new proposal or trend
Last review
Embroidery, equipment, software and trend news.
Last photos
All photos in Gallery