Ask a question about this design.
Looking for a beautiful big bird for a pillow or shopping bag? Buy and embroider Wild owl machine embroidery design can be recommended to all who love birds and unusual design, without building forms and contours. who loves more sketches, sketches and non-contrast drawings in watercolor. The design can be embroidered on fabrics of absolutely any color by picking up random threads (the original color table from the author of design is available on the site and in the history of orders). You can ignore even the dark color of the outline, and embroider it with a bright thread.
The design is available for download in any existing embroidery formats. If you have not found the one you need, you can contact our support.
All these 5 sizes are on sale. Features of different sizes allow you to choose the best option for any task. If you need help in choosing the right size, you can always contact us through the support system or read customer reviews about our products. After paid order will be available for downloading for 1-3 minutes.
You may wish to consider other color combinations for this project. They can be found in our community and downloaded for free here Alternative color charts for Wild owl embroidery design. In case you need a different color chart, please write to us.
Please look similar popular patterns.
Comments
Posted by
angellove0311
on
Mar 23rd, 2018
First time here. I ordered one design and I see at top that I can download 7 free designs. I put them in cart but don't see how they are free. Please advise. Thanks,
Posted by
Support
on
Mar 23rd, 2018
You can choose designs here https://embroideres.com/embroidery-catalog/free-embroidery-designs/
Posted by
mientjie
on
Jun 8th, 2018
Love this. I put it on a towel and wine bag!
Posted by
MaBella
on
Aug 30th, 2018
The owl stitched out great Digitized out perfectly! Great owl design. Thank you!
Posted by
JessicaTh1
on
Nov 2nd, 2018
My eyes scattered while choosing an owl design for sons' bag. Gonna stitch out a present for him. He is 8 years-old but likes everything brutal (Already!!) What if I change orange colors for grey and red or dark brown? How do you think? Would this Wild owl be brutal enough? Or should I choose this design
https://embroideres.com/tribal-owl-4-embroidery-design-34489 ?
Posted by
judipro
on
Mar 6th, 2019
I have a Brother PE535 4x7 frame Do you by any chance have access to change the size of your patterns to fit my frame?
Posted by
Support
on
Mar 6th, 2019
Your embroidery machine has a hoop of 5 x 7 in size. And there are no problems with embroidery of this project.
Posted by
Florence31
on
Mar 26th, 2021
A+ Love this design, everything was as expected! Highly recommend :} Thanks
You must be logged in to leave a reply.
Login »
How can this design be used.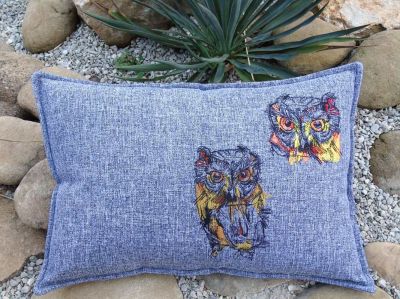 A great opportunity to give your living room the original look is to do some things with your own hands. One of varaintov to make embroidered cushions. This is one of the main elements of the living room. Using this design you will always get 100% perfect results. Light design made in the style of the sketch. Even small deviations or deformations will not look like an error or a design problem. Your product will be similar to the work of a textile artist. As if this is not machine embroidery, but drawing with watercolors. Not bright colors of thread will only emphasize the dignity of your work. Use coarse cotton fabrics.
Our benefits:

Instant download design after paid


Over 14 embroidery formats

Tested embroidery designs


Progressive discount system

Several sizes with one payment

No VAT and FEE , we pay it.

Additional bonus free embroidery designs



New embroidery projects
with our works
New free embroidery designs
available only for customers via our Reward Points program
Last photos 
All photos with our embroidery designs in Gallery
Look at a huge number of beautiful and successful real projects with our work. You can us tags for search.