Please look similar popular patterns.
Comments
Posted by
danilauk
on
Oct 24th, 2018
Perfect design for the ballerina!
Posted by
bigcitylife
on
May 11th, 2019
Stitched out well, and my children's ballet coach loved the onesie I made for her new baby.
You must be logged in to leave a reply.
Login »
How to use this design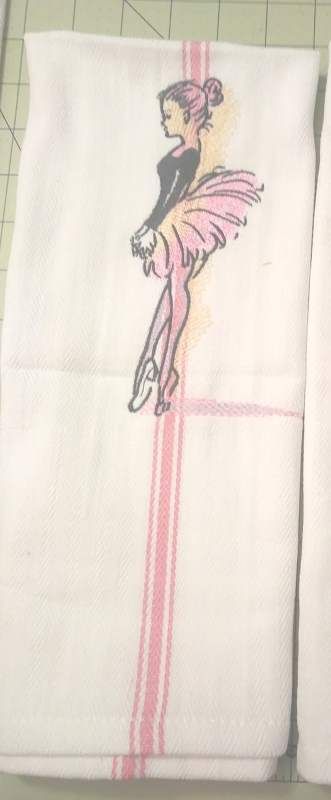 The towel is one of the most important accessories, providing convenience in hygienic procedures, kitchen troubles. A simple, unremarkable product can turn into a worthy decoration thanks to machine embroidery. The printed image, the inscription will give the subject an individual character, make it unique.
It may be asked where to use embroidered towels? Such items can become part of the corporate identity. In hotels and inns, towels decorated with company logos are an obligatory attribute emphasizing the status of a company. You can place such items in the toilet rooms:
 restaurants,
 Cafe,
 stylish offices.
Our benefits:

Instant download design after paid


Over 14 embroidery formats

Tested embroidery designs


Progressive discount system

Several sizes with one payment

No VAT and FEE , we pay it.

Additional bonus free embroidery designs



New embroidery projects
with our works
New free embroidery designs
available only for customers via our Reward Points program
Last photos 
All photos with our embroidery designs in Gallery
Look at a huge number of beautiful and successful real projects with our work. You can us tags for search.