Hello Kitty machine embroidery designs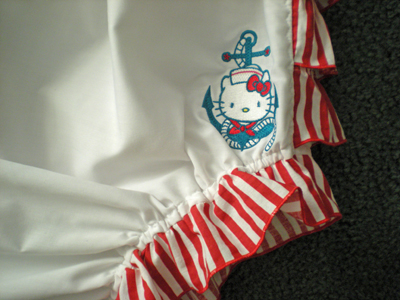 Embroiders keep experimenting for giving new looks in their machine embroidered designer wear. The creativity and imaginations used in stitches, color of threads and quality produced can show your real art of embroidery stitching. The adaptation of premium quality machines has provided a technological breakthrough. The flawless finish, time saving technique, low cost and clothing designs in machine embroidery designs is a wonderful gift for the society.
The machine embroidery design of Japanese Kitty in this long sleeved hooded jacket depicts a real stylishness and women's look. The evolution of this embroidery is result of time and creativity which has given it a new edge of beauty and simplicity. Although the Hello Kitty has been of past years, the charm and its popularity is still the same as it was in the year of its release. Since most of the jackets have machine embroidery designs with digital impact, you can opt for any image of your liking such as Hello Kitty. It can be your family photograph, picture of sports person or any monogram. While printing, even the fonts can be of your choice such as Arabic, Arial Bold or any other. You have good options of editing and fixing the machine embroidery designs, in case you go wrong. Just go online and opt for this stunning superman machine embroidery design. However you have many choices which are unlimited.
Don't think just pick the machine embroidery designs to give a new appearance to your overcoats and jackets. Just like this super man machine embroidery you too can make your clothing sober, ultramodern or reflecting both. Let your imagination excel in the world of fashion designing!
Benefits of our products
Popular formats which can add or change at occasion
Instant download, unlimited number of times. Purchases kept secure by us.
Quality & tested. Force limitless crafts. Family gifts or to sell on Etsy/Trade Shows. Stand out from the crowd.
Bonus designs
Latest photos