Animals embroidery designs
Using animals embroidery for clothing
Wide range Created very carefully. From effortless in one tinge to biggest with more details, impression, elements. Each product contains several variants. Have numerous disparate designs in private collection. But will certainly find new intricate embroideries for future projects. Contrasted in technique, amount of shades besides complexity. Portfolio made by professionals digital artists.


Catalog set of animals embroidery. Categorize divided into several styles; native (a realistic view of most accurately transmitting species of animal) or cartoon - fiction (more like which appear on  screens of cinemas). Made it original, genuine kind of critters in machine embroidery, normally used many colors of threads, this embroidery is dense, requires apply good stabilization materials.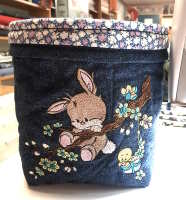 Colors close ordinary, typically less bright same as pastel. Exception is birds of exotic countries. Type of stitches, be a fur, feathers imitating with parameters of random stitch lengths (+ -20-30% of the base distance -  ordinarily stitch duration 3-4 mm). In addition, shadow effect is applied. Cartoon version smoothly be limited to 2-3 bobbins. Choice is commonly wide, often used contrasting palettes. Type of fill everything is simpler. Main background, contour elements (satin or stitch), in some cases it's a figured line.
Embroidery designs for furniture
Choice will depend working time, user's tastes. Embellish summer jersey a simple embroidery in 1-2 colors. Cushion made of dense textile be decorated with a complex composition of creature designs & nature elements. If make a gift to friend with a big african tiger, add name or inscription. Adorn Christmas towel with cute kitten, personal monogram. Sewing a quilt is better to choose identical type or manner matching patterns. Before embroidering a multicolored motif on item, testing file it on a piece of fabric. Check stabilizer.
Benefits of our products
Popular formats which can add or change at occasion
Instant download, unlimited number of times. Purchases kept secure by us.
Quality & tested. Force limitless crafts. Family gifts or to sell on Etsy/Trade Shows. Stand out from the crowd.
Bonus designs
Latest photos