Sofia The First machine embroidery designs
Sofia-the first, machine embroidery designs –launched to woo you!
Sofia, the first is a famous 3D animated TV series that featured the Disney Princesses. We all love Sofia, the young girl of seven-year old. Now it's the time to say hurray, because this beautiful princess is ready to be on your garments, home decor and accessories. Sofia looks so dainty, articulated when she wears a beautiful gown and shoes. Your daughter loves her a LOT, isn't it? Then bring her joy by making your daughters outfits look pretty with some really stunning Sofia machine embroidery. You will for sure appreciate her new look, unlike other girls your little daughter will look smarter and cute. This Disney princess embroidery is available for you to help you be more creative in your embroidery projects. We have many Sofia-the first, machine embroidery designs that very in colors, moods, shapes and sizes.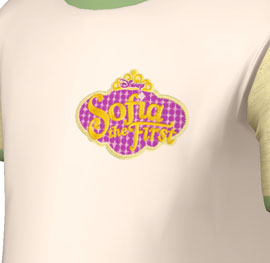 Place them over skirts or pants, no worries since these are perfect to make a simple dress converted into a marvelous birthday outfit. And you creativity will have heads turning around with wonder. Sofia is so lovely that her magic will make little girls feel superior in their group of friends. There are varieties of embroidery designs available everywhere but we give you a highly popular Disney character at reasonable prices. Our embroidery patterns are brilliantly deigned and created to match your all styles of dressing from casual to formal. Here we are giving you a good choice of selection for unique Sofia machine embroidery designs. Each design has a different style and appeal. These embroidery designs are very striking because they are available in different creativity, colors and moods. Attention to every detail is important for us hence you can expect good quality from us, always.
The varieties of designs such as Dreamy Sofia machine embroidery design, Sofia the First cute embroidery design, Sofia logo and more are the choices offered in order to suit your taste and personality. This beautiful Sofia machine embroidery design is also appropriate for new T-shirts, jackets, quilts, bibs, kid's towels and much more. The new and most popular collection of our hub is this girly cartoon character. No doubt, this simple yet colorful machine embroidery design can bring loads of joy and fun element to your embroidery endeavor. The colors are pastel and you can make use of any size anytime. However, we recommend you to place these embroidery designs on medium weight fabrics. So are you looking for something new and trendy? Why not pick something which is extra-ordinary and most stylish at the same time? Never thought of Sofia-the first, then give it a shot and dig into the latest collection today! The most well-liked and popular princess heroine of the new cartoon series is here. Find the embroidery designs in any formats, many colors with high detailing. Do you think now anything more is needed to make your child's clothes more up-to-the-minute and chic? We are giving you the art of decorating your girl's clothes more fashionably and more easily.
Benefits of our products
Popular formats which can add or change at occasion
Instant download, unlimited number of times. Purchases kept secure by us.
Quality & tested. Force limitless crafts. Family gifts or to sell on Etsy/Trade Shows. Stand out from the crowd.
Bonus designs
Latest photos