African animals embroidery designs
Choose an embroidery design - practical tips
Bright strong representatives of animal world. African landmass now decorate denim jacket or a set of napkins in living room. Broad selection of animals, style of execution, originating complex to simple. United by highest level of work of digitizer artists.


How using Animals embroidery design being interior decoration
Big collection always find some small projects, landscapes along different kinds of animals inhabiting jungle, savannah. Great way to sewing new pillow or make a dazzling friend's bag with a panther or giraffe. Well combined including stylish inscriptions or intense fabrics.
African animals separating shining categories large stock..Indeed, is graceful, unusual creatures. In athenaeum demonstrate following categories:
elephants
tigers, lions
zebras 
giraffe.
hippos
monkey
reptiles, crocodiles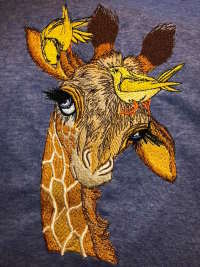 In accumulation find following variety: files presented in a extensive variety of styles, shapes; multi-color realistic compositions, cartoon, stylized (zodiac signs, mainland symbol, various inscriptions). Used to renovate summer T-shirts, household, women's bags or sew compositional present - green continent quilt. uncomplicated result in force of outline an excellent tool embellish projects such as kitchen serviette. Pay attention to single-color variant; keep considerably o'clock, materials (threads, stabilizers), beyond losing level, artistic appearance. On average, pattern is embroidered10-15 minutes (speed around 600 stitches per minute).