Immediately after downloading the aforementioned embroidery design
get several options, discount, bonuses that admit use product 100%. Included benefits
| | | |
| --- | --- | --- |
| Listed sizes. No additional fees. | Safe buy, access design files beyond restrictions. We keep every orders. | Any format or all at once. Add or change an extension when needed. Receive obtained digital art again. |
|   |   |   |
Similar popular patterns


Comments
JamieRust
on
Jan 21st, 2020
It stitched out so beautifully. I love the design and will purchase more from your shop. Thank you for such an adorable design!
You must be logged in to leave a reply.
Login »
How to use this design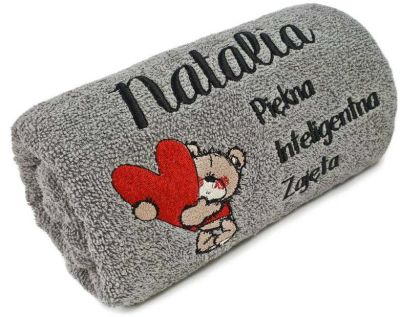 It has long been over the times when a book or a souvenir-bauble was given to each person. More and more people appreciate home comfort and try to surround themselves as much as possible with this. Therefore, as a gift for Valentine's Day, many choose items for comfort. Common among them are towels, but not all in a row, namely terry. How to make a soft original gift? How to emphasize its importance? Machine embroidery on a towel comes to the rescue.
Terry fabrics require special training equipment and materials before applying embroidery. Long pile creates certain difficulties. To the thread does not fall deep into, it is possible to use a special stabilizing composition. The thread itself should preferably be of viscose. Such threads do not shrink and shed during frequent washing and high-temperature processing, which traditional towels are subjected to. The color can be matched to the tone of the towel or create a contrasting pattern.