This adorable little bunny featured in our embroidery design will make his way straight into your heart! The cute animal is grey and fluffy and is hugging a red heart-shaped pillow tightly manifesting his love and affection. The original color palette in this design is a mix of dark rust, cinnamon, maize, gull, aspen white and black. You can use it to enhance all sorts of things: cushions, onesies, blankets, quilts, T-shirts, sweaters, hoodies, towels, pajamas, bed linen, bathrobes, napkins and so much more. This application is compatible with all suitable fabrics.
Immediately after downloading the aforementioned embroidery design
get several options, discount, bonuses that admit use product 100%. Included benefits
| | | |
| --- | --- | --- |
| Listed sizes. No additional fees. | Safe buy, access design files beyond restrictions. We keep every orders. | Any format or all at once. Add or change an extension when needed. Receive obtained digital art again. |
|   |   |   |
Similar popular patterns


Comments
Corinne1
on
Jan 18th, 2018
Wow I will be getting this one for sure, keep them coming
great embroidery to stitch out
kickitup
on
Aug 17th, 2018
Very cute bunny embroidey ! Thank you stitched out great!
Very fast delivery, super cute. So love this one !!! How sweet !!! Perfect for grandson !!!
Senelma7
on
Sep 1st, 2018
I purchased this item to add to pillowcases for a customer. They were for twin girls and I put each embroidered girl's name in the center. They went with cushions that I also made for the girls.
jbwbdbdk6
on
Dec 24th, 2018
Great embroidery designs! I will buy from this seller again! Thank you for library.
AmyBattaglia
on
Oct 17th, 2019
Absolutely LOVE this bunny! All of these designs stitch out beautifully!! This shop was wonderful to work with!
KimberlyWaldrop
on
Jan 15th, 2020
Love this Bunny design. It is perfect for my project. High quality and responsive to any questions or needs. Would buy from this shop again.
You must be logged in to leave a reply.
Login »
How can you use this design.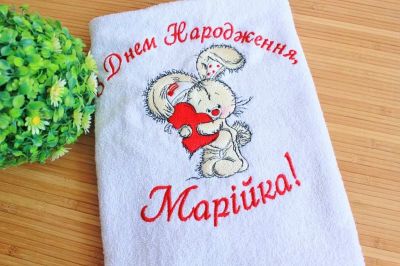 The embroidery can decorate any thing. When planning a future gift for a child, think about its practicality. It is better to have the necessary gift in everyday life.
Is there a second thing as necessary as a bath towel? It is used at home, in the sports section and on vacation. Therefore, the embroidered product will never fall into the attic or in the storage room for unnecessary things. It will always be visible and pleasing to the eye. Add a commemorative inscription, a wish for health or the name of the child to whom you present this embroidered towel. Choose bright font colors.
When embroidering on a terry cloth, use special types of water-soluble stabilizer, which prevent problems with pile.