Please look similar popular patterns.


Comments
No comments. Leave a comment ...
You must be logged in to leave a reply.
Login »
How to use this design.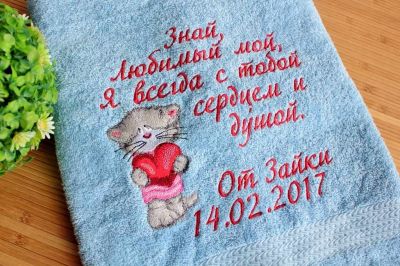 An embroidered towel is an excellent subacro for Valentine's Day. Handmade, it will definitely be a pleasant surprise. There are some difficulties with embroidery on fabric with nap. Follow our tips.
Machine embroidery on terry cloth:
Using the printed design template, mark the center of the embroidery on the towel.
Apply a layer of adhesive spray on the tear-off non-glue stabilizer.
Tighten the stabilizer in the hoop, tightly tighten the screw.
Stick the towel on the stabilizer.
Put a water soluble stabilizer on top.
Secure the towel and water soluble stabilizer with the pins.
Place the hoop in the machine and embroider the design.
After embroidery, remove the top and bottom stabilizers.
Our benefits:

Instant download design after paid


Over 14 embroidery formats

Tested embroidery designs


Progressive discount system

Several sizes with one payment

No VAT and FEE , we pay it.

Additional bonus free embroidery designs



New embroidery projects
with our works
New free embroidery designs
available only for customers via our Reward Points program
Last photos 
All photos with our embroidery designs in Gallery
Look at a huge number of beautiful and successful real projects with our work. You can us tags for search.