Immediately after downloading the aforementioned embroidery design
get several options, discount, bonuses that admit use product 100%. Included benefits
| | | |
| --- | --- | --- |
| Listed sizes. No additional fees. | Safe buy, access design files beyond restrictions. We keep every orders. | Any format or all at once. Add or change an extension when needed. Receive obtained digital art again. |
|   |   |   |
Similar popular patterns


Comments
caryrancall
on
Sep 14th, 2018
Added this design to my wish list. I'll buy this dream catcher next time. I like to embroider designs with different siblings. I especially like the fact that the embroidery design is not tight. I do not like to use a lot of stabilizer when embroidering. I can embroider on thin fabrics. My T-shirts are waiting for this embroidery project.
BertaMl
on
Nov 15th, 2018
Embroidered the dreamcatcher in the 3x6 size. Adorable!! Light and detailed. Love it! I'd probably use the pattern for my daughter's dress. Very fast stitching and a romantic idea with compass. Would exactly shop here again. Ordering in the shop, I can always be sure about the quality of the patterns.
Kate123
on
Nov 22nd, 2018
I've ordered the dreamcatcher for my son. But my husband asked me to embroider it on his shirt also. Well, it's a great compliment to the designer) Thanks a lot! Would exactly buy again.
morri026
on
Jun 25th, 2019
Just purchased a few designs several hours ago, and already stitched out the one. It stitched out very well! Can't wait to use the others. Thanks!
You must be logged in to leave a reply.
Login »
How can this design be used.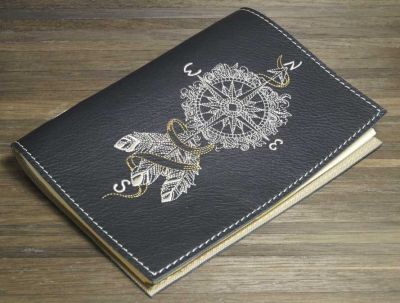 A vivid example of the original use of machine embroidery for decorating various products. Design have only 2 thread colors. Without dense fills and complex effects. Therefore, it can be used on any type of tissue, even the lightest. In this case, the author embroidered leather cover for the notebook. This is a very high-quality work. Such a product has a beautiful appearance and practical purpose. This can easily become a corporate gift.
When embroidering on the skin must remember the important points.
Use only quality stabilizers.
Reduce the speed of the embroidery machine to 300-400 stitches per minute.
Skin material is easily damaged. Vanya will manage to remove the embroidery and keep the initial look of the material. Therefore, use a special needle.