Our benefits:
Instant download design after paid

 

Tested embroidery designs

 

Progressive discount system

 

Additional bonus free embroidery designs

 
Related embroidery deisgns


Comments
mblanc1130
on
Mar 11th, 2018
I made the cat twice. On a jacket and as a framed wall hanging The owl is on a shirt Both are very beautiful stitched out
Get a lot of compliments
sockmonkeyshop
on
Jan 14th, 2019
Is there any way to find out the name of the Designer - I always like to look at all the designs of a good Designer.
Support
on
Jan 14th, 2019
Thank you for your good words. You can simply write them on the product page. We do not indicate the author of the project, since a lot of people work in the company.
Vikki89
on
Sep 14th, 2019
Happy with instant download anв high quality. Thank you! Really great shop and wonderful customer service. I couldn't be more pleased :)
EwaWysonz
on
Feb 21st, 2020
Great design, the design was easy to download & the site was also easy to navigate. Stitched out really nice! Thank you!
RaenitaKl
on
Apr 29th, 2020
Stitched quickly and easily, very nice cat design. Love that multiple sizes and types of files are available.
NWSewinMom
on
Mar 26th, 2021
Mosaic cat embroidery design stitched out perfectly. Will purchase from this shop again.
Pearl94
on
Mar 26th, 2021
Design worked perfectly for the project I was making. Stitched great and very easy
You must be logged in to leave a reply.
Login »
How to use this design.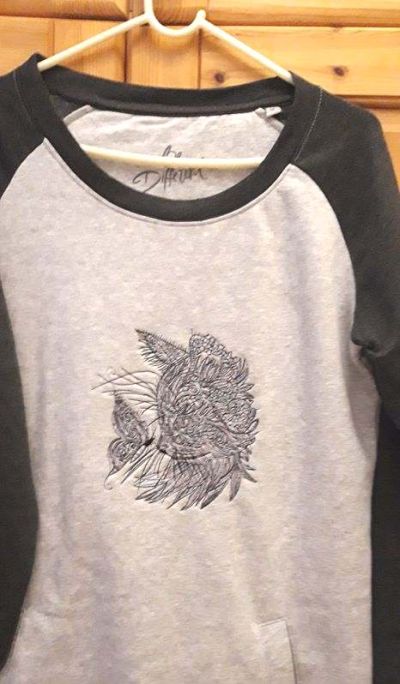 Embroidered women's shirt is one of the most frequent products that we use in everyday life. Through the use of this great cat design, the usual thing can be an individual or a wonderful gift. The pattern is embroidered easily on any kind of fabric. Using the attached color table, you can easily pick up the desired color thread. they are not many, and if necessary, you can replace them with fabrics that are more suitable to your color.
Machine embroidery is the best way to print images on clothes, because it is the most effective, presentable, durable of all application methods.
Shirts with embroidery look more advantageous than shirts on which images are applied in other ways: the volume of the image and the richness of its shades make things more spectacular.
Care for clothes is simple: it can be washed and ironed as usual. Embroidery keeps for many years, does not fade and does not wear out.