Ask a question about this design.
One of the most popular machine embroidery designs for Christmas and New Year. A huge number of projects you can see in our gallery of finished works. Some of which you can see on this page.
Wow. This dwarf embroidery design we have not one. We have their Christmas composition  embroidery collection. You can see them all.
The medium density design is suitable for all kinds of fabrics. But need only take right stabilizer.
Please look similar popular patterns.
Comments
Posted by
Emma576
on
Nov 14th, 2018
I've embroidered the Dwarf on an X-mas suit for my daughter. Funny gnome for my little gnome)) Added her name description. Thanks for nice designs!
Posted by
Grettaopiop
on
Dec 2nd, 2018
So easy to start and to embroider! Pretty gnome. Stitched out perfectly and my towels are funny now. Would surely stitch the pattern on my CHristmas gifts. Thanks to the seller!
Posted by
adoucet7
on
Dec 5th, 2018
I placed the above order and received the email for the downloads. I have a question regarding the numerous downloads for the gnomes. I see that there are 5 different downloads for each design(i bought 3 different little gnome designs), this is the first time a download has had more than one download for a design other than a zip file. The downloads do not indicate what the difference in the downloads is. wondering if it is just different sizes for the design or if the 5 files are needed for one stitch out design. I hate to ask dumb questions but I am just starting out with embroidery and dont want to mess this up. Thank you in advance for your response.
Posted by
Support
on
Dec 5th, 2018
These are different sizes of the same design. You can see in in this page. More information here.https://embroideres.com/support#6588
Posted by
GillP
on
Dec 22nd, 2018
Sewed the tiny Christmas gnome on some small accessories for my husband's friend. Love the result! Pretty and funny. Thanks to the designer! Turned out well on my PFAFF creative
Posted by
PattyMcCoy
on
Dec 4th, 2019
I love this Dwarf design! Stitches out perfectly and I've already used it again and put it on kitchen towels and napkins!!! Thank you!
You must be logged in to leave a reply.
Login »
How to use this design.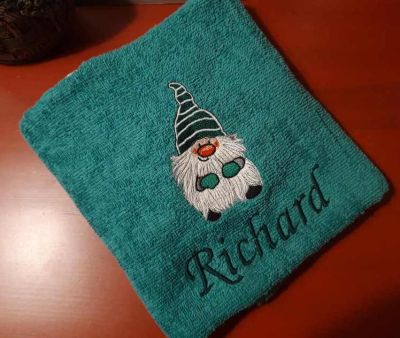 It has long been over the times when a book or a souvenir-bauble was given to each person. More and more people appreciate home comfort and try to surround themselves as much as possible with this. Therefore, as a gift to any event, many choose items for comfort. Common among them are towels, but not all in a row, namely terry. How to make a soft original gift? How to emphasize its importance? Machine embroidery on a towel comes to the rescue. In every home, hotels, hotels, clinics, towels are required. Choose sturdy, beautiful products is now easy. But many hostesses, reputable hotels, elite salons prefer to personalize these items, give them a flawless look, uniqueness.
Drawing on towels of flower compositions, folk motifs are ordered by many owners of apartments, houses. Products become an excellent decoration of the kitchen. Embroidery provides invaluable assistance if you want to find an original gift. Terry towel with a personal embroidery can be presented on a birthday, anniversary. Such a gift is sure to enjoy.
Our benefits:

Instant download design after paid


Over 14 embroidery formats

Tested embroidery designs


Progressive discount system

Several sizes with one payment

No VAT and FEE , we pay it.

Additional bonus free embroidery designs



New embroidery projects
with our works
New free embroidery designs
available only for customers via our Reward Points program
Last photos 
All photos with our embroidery designs in Gallery
Look at a huge number of beautiful and successful real projects with our work. You can us tags for search.