Check out one of the most beautiful embroidery designs from our amazing Christmas collection! It features a fancy snowman dressed in a bright red outfit with a snowflakes print. The snowman is wearing a striped red and white hat and is smiling happily. At the backdrop, there's a beautiful winter landscape with snow-capped trees in the forest and a deer with luxurious antlers. You'll love how creatively this needlework enhances any items of your choice: sweaters, hoodies, T-shirts, pajamas, bathrobes, towels, quilts, blankets, napkins, cushions, tablecloths and much, much more.
Please look similar popular patterns.
Comments
Posted by
Kwilts2sew
on
Dec 12th, 2018
Design is well made and sews out beautiful! Thanks!
Posted by
TraceyAudley098
on
Dec 12th, 2018
Сute snowman for my baby's winter scarf! Stitched out perfectly on my Bernina embroidery machine. Thank you! Good purchase!
Posted by
suzie71
on
Dec 14th, 2018
Great seller!! Quick delivery!! Can't wait to stitch it out!
Posted by
outback43
on
Dec 31st, 2018
Beautiful to stitch!!! Great digitizing!
Posted by
carrief
on
Jan 11th, 2019
"page not available" This is the messege I get when trying to download the design purchased on 01.06.2019.Can you email the design since the page isn't available? I need this design to finish a quilt...
Posted by
Support
on
Jan 11th, 2019
Perhaps it was a communication failure. We sent you the design you bought by email.
Posted by
Support
on
Jan 11th, 2019
Perhaps it was a communication failure. We sent you the design you bought by email.
Posted by
Etsuko77
on
Jan 15th, 2021
Fancy snowman embroidery design stitched out beautifully I'm very pleased with this transaction.
You must be logged in to leave a reply.
Login »
How to use this design.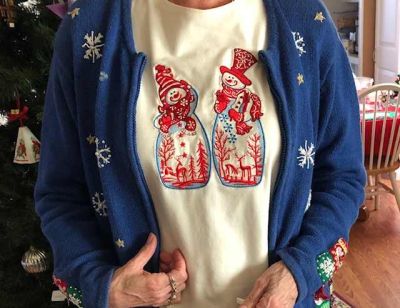 Embroidery as an opportunity to decorate clothes is one of the most popular type of decoration. It is convenient and beautiful when it is necessary to emphasize the readiness to celebrate Christmas or the new year. An ordinary T-shirt bought at a nearby store can in an hour be an original gift that will bring a lot of joy. Christmas clothes use bright thread. Embroidered snowmen are made with elements of Scandinavian style. They do not use the main layer, its role is played by the fabric on which the embroidery is applied. This can significantly reduce the time of use of the embroidery machine, materials and density of the final product.
Our benefits:

Instant download design after paid


Over 14 embroidery formats

Tested embroidery designs


Progressive discount system

Several sizes with one payment

No VAT and FEE , we pay it.

Additional bonus free embroidery designs



New embroidery projects
with our works
New free embroidery designs
available only for customers via our Reward Points program
Last photos 
All photos with our embroidery designs in Gallery
Look at a huge number of beautiful and successful real projects with our work. You can us tags for search.