Beautiful fox design combined with ornament. The style of tattoo is used. This is a very original Fox looks at the sky machine embroidery design with a wide range of uses. You can decorate a T-shirt or jumper with a completely original product. You can embroider a series of sofa cushions or kitchen napkins changing the color range of threads. Embroidery is available for instant download in several sizes and in all popular formats. Using different sizes, you can choose a design for any project or any product.
The design is dense, with a lot of effect and the use of stitches such as zig zag. This creates dense patches. We recommend using a quality stabilizer with a density of at least 80 grams per m2.
Please look similar popular patterns.


Comments
Posted by
stephaniemartushev
on
Jan 18th, 2018
WOW THIS ONE IS SO BEAUTIFUL. GOTTA HAVE THIS ONE
Posted by
spiridion33
on
Jul 8th, 2018
Love love love the fox design
Posted by
Support
on
Aug 23rd, 2018
Embroidery on a leather backpack. Stylish and bright. Let our embroidery be a bright element in your autumn wardrobe. A vivid example of quality professional work. Embroidering on the leather is not easy. If you decide to repeat a similar project, try first on a piece of skin to understand what possible issues or problems may arise during the project.
Posted by
Support
on
Sep 4th, 2018
A leather stand for a beer glass with beautiful stylish machine embroidery. Not the most complicated product in terms of pattern, but it definitely looks impressive. Unequivocally raises questions about the functionality of the product. If you put a glass on the convex part of the embroidery, will it stand steadily? How to wash or clean it (and it will definitely get dirty).
But you can tell exactly this spectacular crib to your friends who are opening a new bar or cafe.
Medium density embroidery.
Posted by
oma52
on
May 7th, 2019
Love this design and such a cool way to use an embroidery machine. Easy to follow instructions and it came out fantastic. Would love to see some more like this. Thank you XX
Posted by
SewphisticatedGifts
on
Sep 3rd, 2019
Great design. Looks wonderful on a bag.
Love, love, love all your designs. They always stitch out beautifully with a great quality!
You must be logged in to leave a reply.
Login »
And where else can you use this design?
You can do embroidery on shorts.
In the summer heat, shorts are a real salvation. Practical and comfortable clothes, which are equally like men and women. However, the shorts can not boast of a special variety of styles, which makes them rather boring. Hence the need for decoration and decoration as ways to make shorts individual.
The best way to apply and decor is the machine embroidery on clothes. It creates a durable and accurate image that will make your shorts original. So you can create your own style, express your views on life, show your character. In addition, sports shorts are often an element of form, so putting an emblem on them is a wonderful way to rally the team!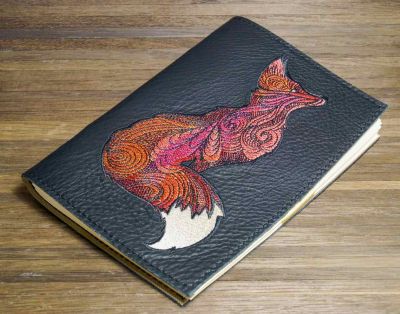 The features of embroidery on leather fabric include:
Designs for embroidery on the skin is better to choose light, without dense fill. Machine embroidery design with fox decorated with patterns is suitable for embroidery on such material. At the same time, the best result will be obtained when using artificial suede for the bag. Firstly, because suede is matte and polyester threads will give the bag a stylish accent at the embroidery site. And secondly, because artificial suede contains synthetic fibers, which will serve as the best basis for embroidery, rather than leather.
Choose thin and sharp embroidery needles. Since the thick needle will leave too large holes.
Remember that embroidery on leather or suede, even artificial, process is very responsible. As in case of an error, the embroidery will have to be evaporated, and this will undoubtedly lead to the fact that there are visible marks on the skin that are not removed.
Before embroidery on leather or suede, the material must be duplicated with dense sewing non-woven fabric, for example, the German manufacturer Vilene.
Stylish embroidery is a great opportunity to decorate any thing. Embroidered fox will decorate husband's denim jacket or sofa cushion. Change the color combinations and get a new set of designs without spending money.
The original gift is always a difficult job. But it will become easier if you have an embroidery machine. Leather cover weekly is a good gift for a business partner, husband or student son.
Embroidery on a leather backpack is a great way to make an ordinary accessory for a woman or a girl a bright thing. Embroidering on the skin is difficult and difficult work. Requires knowledge and experience in machine embroidery.
Our benefits:

Instant download design after paid


Over 14 embroidery formats

Tested embroidery designs


Progressive discount system

Several sizes with one payment

No VAT and FEE , we pay it.

Additional bonus free embroidery designs



New embroidery projects
with our works
New free embroidery designs
available only for customers via our Reward Points program
Last photos 
All photos with our embroidery designs in Gallery
Look at a huge number of beautiful and successful real projects with our work. You can us tags for search.