Immediately upon download aforementioned embroidery design
get several options, discount, bonuses that admit use product 100%. Included benefits
| | | |
| --- | --- | --- |
| Listed sizes. No additional fees. | Safe buy, access design files beyond restrictions. We keep every orders. | Any format or all at once. Add or change an extension when needed. Receive obtained digital art again. |
|   |   |   |
Similar popular patterns


Comments
liannde
on
Jul 20th, 2018
This is a beautiful unusual design. Stitches out perfectly. I love the sweet face of that gnome. It's in the middle of a Christmas quilt for my grandkids. Liz
annarita
on
Aug 26th, 2018
This dwarf design is not easy to do if you are a beginner like me. It stitched very well on my Janome who is quite picky. Thank you! Will buy again when I need something else.
Very cute design. Stitched out very nice. Instant download order was great. I would buy from this designer again.
Love the cute dwarf. Already used it on a couple Christmas projects. Sewed out beautifully! Thank you!
Ninny23
on
Sep 23rd, 2018
Awesome!! Did this on a Back pack stitched out perfect. It stitched out nice. Will be coming back.
This is design is so fun and cute! Perfect fox for a Christmas towel. Stitched out perfectly.
Claire43
on
Nov 28th, 2018
I love the gnome series on the site! All the patterns are so cute! Stitches always perfectly but better to use a stabilizer. Got almost all the gnome designs in my Xmas embroidery library.
I have a babylock machine and use Masterworks, I can not get it to open
shelbyreeves
on
Nov 27th, 2019
you posted a wonderful gnome on Facebook and said it would be available soon. I would love to purchase it. Can you please tell me where to locate it?
Support
on
Nov 27th, 2019
shelbyreeves : Yes, this design will be available for purchase soon. Just wait another day.
PattyWilliford
on
Dec 25th, 2019
This added such a perfect touch to Christmas pillow that's being made. Stitched out great! Very pleased with my purchase
katty13katty
on
Dec 17th, 2020
The design came out beautifully! Exactly what I was looking for Christmas! Thank you!
psilvia
on
Dec 17th, 2020
This is one of the best designs I've ever embroidered. There was virtually no connecting threads to trim! I put three designs together which will be used on a pillow. While watching it stitch out, I knew I was going to leave a 5 star comment when it was done but instead I can only leave a 4 star. The last of the 3 has a noticeable bare spot on the hat. I'll fill it in with marker but if the designer gets this, maybe it can be edited? Otherwise I love it!
You must be logged in to leave a reply.
Login »
How can this design be used.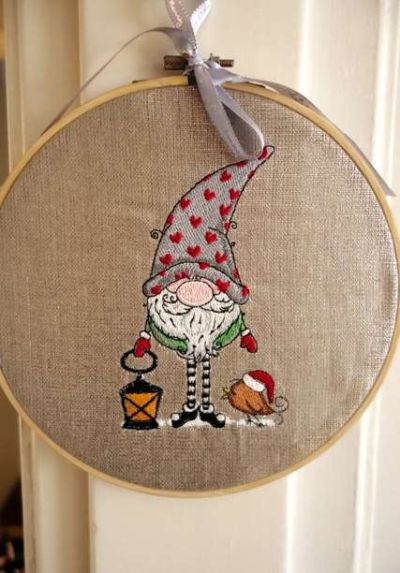 Handmade gifts with Gnome embroidery design
Decorating a Christmas house is a pleasant duty. Napkins and tablecloths decorated with bright winter motifs. Socks for New Year's gifts that you know on the fireplace or door. Here is the very original project. You can embroider a whole series of these designs that you will find on our website. Different thread colors can be used for variety. A frame with an embroidered gnome design can be put on the wall or door.
For create same embroidered item you will need:
Round wooden frame with retainer
Coarse linen or cotton fabric.
Machine embroidery design.
Cardboard for the back.
Tear-away stabilizer Floriani or Sulky.
Adhesive glue for temporary fixation Sulky or Gunold KKK 100.
Any brand thread
Silk ribbon