Please look similar popular patterns.


Comments
Posted by
chrisdecor
on
May 25th, 2018
Stitched out great. My customer loved it
Posted by
shippahoy
on
May 29th, 2018
stitched out beautifully, my daughter loved it!
Posted by
Cheriestarnes
on
Aug 16th, 2018
Stitched beautifully! Love the dwarf design stitching. :-) Embroidery look good when sewing was done, A little more open looking that I would have liked in the stiches.
Posted by
ljlovelace
on
Aug 26th, 2018
Do you have the this design with Merry Christmas written? If not, how much would it cost to have it digitized for embroidery ? A large size would be great, but could the coat and face be applique so it would be fewer embroidery stitches? Please advise.
Posted by
Support
on
Aug 26th, 2018
Only this variant. If you need perfect custom digitizing like is at this page please create order here https://embroideres.com/customer-digitizing/customer-digitizing-service/custom-digitizing-order/
Posted by
annarita
on
Aug 26th, 2018
Stitched fine, wish the design was a little bigger but overall good! Love this Christmas embroidery, stitches out nicely!
Posted by
abloodworth
on
Sep 1st, 2018
I used these gnomes and my Janome machine to make a embroidered cushion for my son's room. Fantastic! Files and color chartwere REALLY easy to use and saved me a ton of time. Well worth it!
Posted by
Gaelle
on
Sep 4th, 2018
IT Stitched out great! Thanks! Love it! Will purchase again!
Posted by
aleksiuke
on
Sep 8th, 2018
I needed this design to finish a Christmas quilt project. It well fulfilled the purpose. Always need more embroidery patterns for this time of year.
Posted by
mae
on
Sep 23rd, 2018
Worked for exactly what I needed it for! This stitched out perfectly!!! Can't wait to wear it!
Posted by
Ninny23
on
Sep 23rd, 2018
Another great Christmas design and perfect stitch out. Love this cute little deer. Perfect stitch out. Recommend Seller.
Posted by
Ninny23
on
Sep 23rd, 2018
Awesome design, stitched out with no probelms.
Posted by
Pankoca
on
Oct 12th, 2018
Stitched out great. Made hand towels. Picture doesn't do the design justice. Love it.
Posted by
seija
on
Dec 13th, 2018
Wow fast responses, easy downloads. Perfect stitch outs! Great Christmas embroidery library.
Posted by
bsanchez
on
Sep 26th, 2019
HELLO, I HAVE ORDERED MIGUEL TWICE AND EACH TIME I ONLY GET THE COLOR CHART ONLY----- NO DST???? PLEASE SEND ME THE DST FOR MIGUEL AND PLEASE REIMBURSE ME 2.50 USD AS I HAVE PAID TWICE AND RECEIVEDED NOTHING BUT A COLOR CHART TWO TIMES. VERY FRUSTRATING!!!!!. THANKS. I WILL REALLY APPRECIATE IT IF YOU HUTTY AS I NEED THIS DST FILE ASAP.
YOURS TRULY,
Posted by
Support
on
Sep 26th, 2019
Thank you for message problem. Also we sent your ordered designs as attach. Also we add to you account 2.5 usd. You can use them on your next purchase.
Posted by
tania
on
Oct 4th, 2019
these and other designs can be sized from small to large, right?
Posted by
Support
on
Oct 4th, 2019
Yes, all sizes.
Posted by
mooroo
on
Oct 18th, 2019
I didn"t receive the download for the red cap gnome and need the three that are in Merry Christmas gnomes to make the set complete. I did send notice on FB about this and never got the download sent. Please send me download asap so that I can complete the project. TY
Posted by
Support
on
Oct 18th, 2019
mooroo : We have sent your last order by email. If you did not find the design you need, write us the exact name of the design and order number.
Posted by
GeniceReid
on
Dec 1st, 2019
I have always love doing business with this shop. Very cute designs and instant download, thanks a lot.
You must be logged in to leave a reply.
Login »
How can this design be used.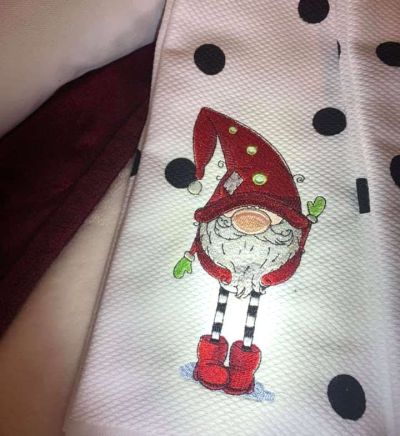 Beautiful decoration element of a festive Christmas table or an original gift. The embroidered towel will perfectly complement the interior of the winter house and create the right mood. This lego project can be changed, me the color of the thread. Availability of several sizes expands the application. Children's T-shirt or napkin decoration.
You can decorate the already finished narrow towel or make it yourself. For making Christmas towels, you will need a cut of 80 x 35 cm of fabric. Before starting work, align the sections of the fabric with lobar and weft threads.
Elongated lobar and weft threads will help to quickly align the cuts. Pull one thread from each side of the cut, and cut off the excess fabric.
For work you will also need:
Sulky or Floriani tear-off non-glue stabilizer
Embroidery thread, upper and lower
Spray adhesive for temporary fixation of tissue
Embroidery design and color chart from the site collection
Here you will find information on the location of projects on various products: How to position the embroidery design on the item.
Our benefits:

Instant download design after paid


Over 14 embroidery formats

Tested embroidery designs


Progressive discount system

Several sizes with one payment

No VAT and FEE , we pay it.

Additional bonus free embroidery designs



New embroidery projects
with our works
New free embroidery designs
available only for customers via our Reward Points program
Last photos 
All photos with our embroidery designs in Gallery
Look at a huge number of beautiful and successful real projects with our work. You can us tags for search.