Looking for some great design ideas to personalize birthday presents for your little ones? Take a look at this machine embroidery design which features a merry hedgehog celebrating its birthday with a mousekin. The two besties have a tasty cake with cherries and currant as well as gooseberry. Great treats for a summer celebration! This design comes in a vivid color palette of eighteen colors. It's going to be a lovely decoration for all sorts of items: T-shirts, sweaters, hoodies, onesies, napkins, blankets, pajamas, quilts, cushions, handbags, jackets, bathrobes and more. Works with all suitable fabrics! 
Please look similar popular patterns.
Comments
Posted by
malene201
on
May 4th, 2019
Just perfect and cute hedgehog! Stitches nicely--- turned out great for my grand-daughter's first birthday onsie :)
Posted by
Mayflower11
on
May 8th, 2020
Works up perfectly! Was tough to find a hedgehog birthday embroidery design, thank you for offering such a cute one.
Posted by
Laura120976
on
Jul 17th, 2020
A beautiful design that stitched out even more beautifully!! Thank you for helping me make my granddaughter's birthday outfit spectacular!
You must be logged in to leave a reply.
Login »
How to use this design.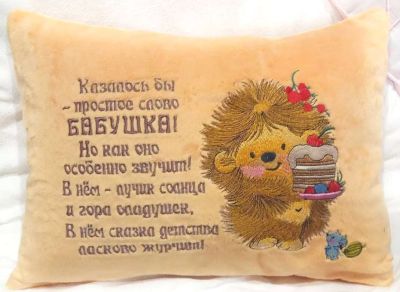 Cushion with embroidered cute animals is an original gift for those who are somehow connected with children. If you are preparing a gift for a child or newborn, pay attention to the pillow with embroidery. We offer to embroider any design you will find in our large library of projects.
Pillow with embroidery is an additional comfort and convenience in any place, on any sofa. Especially such a thing is useful for those who like to decorate their room or house with original things, such that can not be bought in the store. The pillow can provide a comfortable seat or if you can lie down and rest on it, for example, children in the country. The stylish look and cute inscription makes your gift even more original and personalized. This is especially important when making a birthday present.
Our benefits:

Instant download design after paid


Over 14 embroidery formats

Tested embroidery designs


Progressive discount system

Several sizes with one payment

No VAT and FEE , we pay it.

Additional bonus free embroidery designs



New embroidery projects
with our works
New free embroidery designs
available only for customers via our Reward Points program
Last photos 
All photos with our embroidery designs in Gallery
Look at a huge number of beautiful and successful real projects with our work. You can us tags for search.