Please look similar popular patterns.
Comments
Posted by
chodges0514
on
Apr 11th, 2018
I haven't used these but they look cute! I will post my project later.
Posted by
vincent
on
Apr 15th, 2018
Adorable. I'm just learning. The deer turned out great. Easy download, love the designs!
Posted by
redcowz
on
Aug 7th, 2018
I love this autumn leaf design. It came out beautiful. Will buy again. Please digitizing more same. I like this style and any designs from your library.
Posted by
Support
on
Oct 13th, 2018
This is a Great design!
Posted by
bcarver78
on
Oct 16th, 2018
thank you, all good, great product. Embroidered well.
Posted by
MaureenDumont
on
Sep 14th, 2019
No problems with any of designs from here so far. Everything is great quality, thanks for the great customer service and lovely products :)
You must be logged in to leave a reply.
Login »
How can this design be used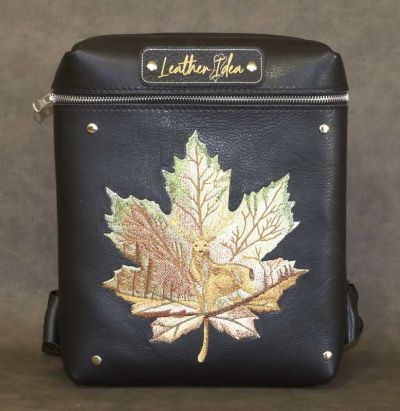 You want to decorate the leather bag - this design is for you! Want to embroider textile? This design is great with this.
cope.
Today we look at how to embroider a machine embroidery Autumn leaf on the most
popular materials that are used for sewing bags.
For example, everyone's favorite and multifunctional shopping bags, as a rule, are sewn from linen or cotton fabric. In order to embroider on such material you will need:
Tear-off or detachable non-glue stabilizer Clay-syrey temporary fixation, for example, Gunold KK100 or Madeira Temporary Srgau Adhesive MSA 1100 
Printed design pattern 
Erasable marker, for example, from manufacturers Clover, Hemline , Wellcraft
Embroider on such sufficiently dense fabrics is a pleasure. They are stable, not elastic and, often, there are no big problems with them.
First, you must correctly position the embroidery on the fabric. To do this, use a washable marker and a printed design template. This paper pattern is a full-size design, with a marked center of embroidery and axis direction lines. These marks are transferred to the fabric by a marker.
Now you need to stabilize the fabric. To stabilize, use temporary fix adhesive. It is important that during waving, make sure that the marks on the money match the cancellations on the hoop. At the end of the embroidery, crucify the fabric and remove the excess stabilizer. Nothing complicated.
But in order to put embroidery on the skin, from which handbags are most often sewn, you will have to work hard. But, I'll worry, we will tell you about the features of embroidery on this material, and also consider the process itself.
The features of embroidery on leather fabric can be swept away:
•Designs for embroidery on the skin is better to choose light, without dense zasyle. Machine embroidery design autumn forest is suitable for embroidery on such material. At the same time, the best result will be obtained when using artificial suede for the bag. Firstly, because suede mat and polyester threads give the bag a stylish accent at the embroidery site. And secondly, because artificial suede contains synthetic fibers in its composition, which will serve as the best basis for embroidery, rather than leather.
Choose thin and sharp embroidery needles. Since the thick needle will leave too large holes.
Remember that embroidery on leather or suede, even artificial, the process is very responsible. As in case of an error, the embroidery will have to be evaporated, and this will undoubtedly lead to the fact that there are visible marks on the skin that are not removed.
Before embroidery on leather or suede, the material must be duplicated with dense sewing non-woven fabric, for example, the German manufacturer Vilene.
Our benefits:

Instant download design after paid


Over 14 embroidery formats

Tested embroidery designs


Progressive discount system

Several sizes with one payment

No VAT and FEE , we pay it.

Additional bonus free embroidery designs



New embroidery projects
with our works
New free embroidery designs
available only for customers via our Reward Points program
Last photos 
All photos with our embroidery designs in Gallery
Look at a huge number of beautiful and successful real projects with our work. You can us tags for search.