Ask a question about this design.
Some designs of machine embroidery are similar to mosaic. A small picture is gradually created from small pieces. Yes, this is a frequent change of thread colors and increased time for work. But the result that you see is worth it. In the end you get a real masterpiece. A multi-color design that transmits a large number of shades and accuracy of perception. All the smallest elements of embroidery are clearly discernible. Such is this teddy bear which you see on this page. Very beautiful big embroidery. There are shadows on the animal's frostbite, decor elements of dress and shade on chocolate ice cream balls.
Evaluate the quality of our digitizing, most of the elements are done by hand. Each element has a specific direction of stitches. This allows you to create body elements even when there is no contour stitch. Also made flowers, a pocket with a toy and a handbag (bottom at the feet). This is really a very high-quality design of machine embroidery.
The design is dense, it is recommended to use 2-3 layers of stabilizer with a density of at least 60-80 grams per m2, or the use of the "sandwich" technique.
Bear design is absolutely incompatible with embroidery machines having only a hoop size of 4 x 4. We do not recommend changing the design measurement by more than 10-15%.
Design is a file in digital format. To transfer to the embroidery machine, you do not need additional software.
Please look similar popular patterns.
Comments
Posted by
ckirby4
on
Apr 14th, 2018
Thank you, my mom liked the design
Posted by
MomWiz
on
Apr 18th, 2018
I just love all bear designs, I have bought several designs and they stitch out great and look so beautiful.
Posted by
mclaurinlogistics
on
Apr 25th, 2018
Happy with everything form this shop. Stitched a gift for a friend. Lovely.
Posted by
pls1934
on
May 17th, 2018
Stitched out perfectly, the bride loved it!
Posted by
thelmabunting
on
Jul 31st, 2018
Great design! Love using it!
Posted by
EleanorBrit
on
Nov 14th, 2018
I've sewed a patchwork baby blanket for my granddaughter using the teddy bear. I've downloaded several bear patterns of the series and should say they all stitched out perfectly. Pretty teddy with Ice-cream! It is very interesting for a little baby to explore the colored pictures. She touches the embroidery and it is unusual for her. The gift is successful! Thanks to the seller!
Posted by
MelissaReasoner
on
Nov 3rd, 2019
I put this on a dress for my grand daughter and she loved it! Lovely stitch out! Very pleased, thank you
Posted by
Kathryn14
on
Dec 5th, 2019
Very nice bear design. Haven't had a chance to stitch it yet but I'm sure it will be fine as other design I purchased here previously.
Posted by
tammypate
on
Jan 5th, 2020
I just ordered from y'all for the first time. I really need the Houston Texans logo and the Brown Bears logo. I have a Bernina machine and it uses the .EXP files. When I read the description of each of these designs, you list "Bernina .art, .exp" and I assumed that when I selected Bernina .art when I registered before purchasing that the .exp would come as well since there wasn't a separate .exp option.
Also, for the Brown Bear logo, the only file available for me to download is a .jpg! Where is the .art/.exp file?
Many thanks for any help you can provide!!
Posted by
Support
on
Jan 5th, 2020
tammypate: Thank you for message. We fixed problem Brown bear logo. And sent these files as attach via e-mail. We also added to your account the ability to download both formats - EXP and ART
You must be logged in to leave a reply.
Login »
How to use this design.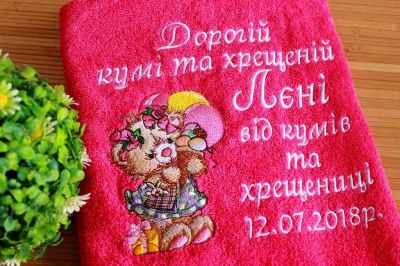 Terry cloth familiar to all from childhood, and this is a favorite bathrobe and towels for the shower. Terry products are mainly textiles for the home. It is a pleasure to embroider on terry fabrics, as the fabric is stable and does not stretch. This fabric, perhaps, has only one minus - loops, but if you correctly apply such knowledge as: wadding technology, selection of stabilizer and designs for fabric, then all questions will disappear by themselves.
Terry fabrics have a looped pile, and are used in the manufacture of towels, beach robes, bath slippers, bedding and baby clothes, as well as children's toys and even "bar" accessories.
Embroidery on terry bathrobes
Machine embroidery on terry babybibs
Any terry products
If we talk about the composition of terry cloth, it is produced mainly from cotton, flax and, less commonly, bamboo. The fabric absorbs moisture well and does not stretch. Scope of application and the listed properties of terry cloth make it attractive for machine embroidery both in the world of hobby and on an industrial scale.
You will need materials:
bath towel
embroidery design
water soluble stabilizer type as Avalon
tearaway stabilizer, density 80-100 gramm per m2
Our benefits:

Instant download design after paid


Over 14 embroidery formats

Tested embroidery designs


Progressive discount system

Several sizes with one payment

No VAT and FEE , we pay it.

Additional bonus free embroidery designs



New embroidery projects
with our works
New free embroidery designs
available only for customers via our Reward Points program
Last photos 
All photos with our embroidery designs in Gallery
Look at a huge number of beautiful and successful real projects with our work. You can us tags for search.