Christmas Embroidery Designs: an Adorable Dwarf for Your Next Project
The colorful and merry Christmas season is approaching so fast! We're all looking forward to the quiet happy days full of twinkling lights, bright decorations and tasty meals.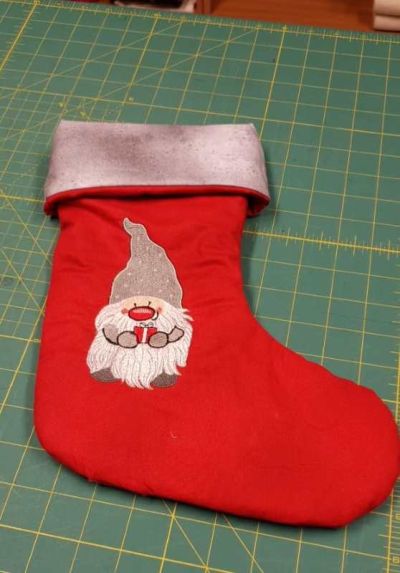 But wait – have you thought about this year's Christmas presents for your loved ones yet? If not, it's time to get started, and here's a perfect chance to prepare truly glorious gifts.
How about this lovely Christmas stocking? This is not just your ordinary stocking, same each year and familiar as the back of your hand! This red stocking is decorated with the original dwarf embroidery design.
An adorable little dwarf in a grey Phrygian cap is holding a Christmas present and winks at you mischievously. His large red nose and cheeks hint that a cold and frosty winter season is in full swing but we can stay warm wherever we are by taking care of our family and friends.
This embroidered application stitches out very easily to any suitable fabric. Play around with different colors to achieve that perfect combo.
You can even prepare a whole set of stockings with this fantastic design, each coming in a different palette and present them to your loved ones. Their fireplaces and Christmas trees are going to look so nice and festive this year! You can even add a short inscription to the stocking. A personalized gift will make the Christmas festivities extra special and enjoyable.
Christmas embroidery designs are so diverse that it might be hard to make your choice, but dwarves stand out immediately. Delightfully comic and mischievous, they are the favorite Christmas characters for so many of us. This embroidery design will help you make touching and memorable Christmas presents for people who matter most in your life. Happy embroidering!
Comments
No comments. Leave a comment ...
You must be logged in to leave a reply.
Login »
New free embroidery designs
available only for customers via our Reward Points program
Last photos 
All photos with our embroidery designs in Gallery
Look at a huge number of beautiful and successful real projects with our work. You can us tags for search.