Please look similar popular patterns.
Comments
Posted by
GillP
on
Dec 22nd, 2018
I decorated a pillow with the plush bride and groom and the quality of stitching is very good. Digitized very well and the pattern has no holes or jumping of the stitches. I highly recommend the site!
Posted by
DebbieGolden27
on
Apr 23rd, 2019
Used this cute bridal pattern on my new Brother 770, stitched out great! Embroidered it on wedding hotel gift bags.
Posted by
kperry1220
on
May 24th, 2019
Loved it for a Wedding Quilt I made for a gift. Sewed up just like the picture shows. So cute and perfect! Thank You.
Posted by
fluffymarshmallow07
on
Sep 25th, 2019
Super cute design! Downloaded instantly without problems. I think the bride and groom are going to love it!
Posted by
CaNikys
on
Mar 3rd, 2020
Great design for towels! This was for wedding shower gift and my friends loved it! Amazing quality as always!
Posted by
MelodieHam
on
Jun 19th, 2020
Used for a wedding gift, was able to use several sizes. Added a wording and it turned out definitely cute!
You must be logged in to leave a reply.
Login »
How to use this design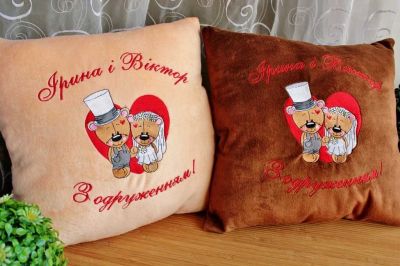 All make gifts to newlyweds. This is a tradition. Do not buy a standard item in the store. This is not surprising. Do not give money. They will spend, and nothing will remain. Make a gift with your own hands. Show your creative abilities and surprise everyone around you. Make two beautiful pillows with teddy bears in love. The bride and groom. Two funny, original pillows - she and he. For the long memory. Add a commemorative inscription. Let them decorate their future home, give joy and beautiful memories.
Our benefits:

Instant download design after paid


Over 14 embroidery formats

Tested embroidery designs


Progressive discount system

Several sizes with one payment

No VAT and FEE , we pay it.

Additional bonus free embroidery designs



New embroidery projects
with our works
New free embroidery designs
available only for customers via our Reward Points program
Last photos 
All photos with our embroidery designs in Gallery
Look at a huge number of beautiful and successful real projects with our work. You can us tags for search.