Please look similar popular patterns.
Comments
Posted by
Rebecca77
on
Mar 25th, 2020
I love this design!! Downloaded it immediately and began using it right away. It is perfect!! Thank you!!!!!
You must be logged in to leave a reply.
Login »
How to use this design.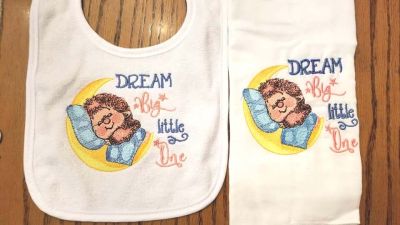 Embroidery on children's things and accessories for newborns. This is all beautiful and practical. It is always necessary when you are caring for a newborn. This is a great gift for a young mother. With embroidery, these things look much brighter. Bib and napkin made in the same style will be a memorable thing after many years. Add the child's name.
Embroider such a thing is quite simple, the pattern is easy to find on the Internet, or done using another similar product. Choosing a soft fabric that will not cause discomfort to the baby.
For embroidery on a napkin, you can take a finished product that is easy to find in any store.
Our benefits:

Instant download design after paid


Over 14 embroidery formats

Tested embroidery designs


Progressive discount system

Several sizes with one payment

No VAT and FEE , we pay it.

Additional bonus free embroidery designs



New embroidery projects
with our works
New free embroidery designs
available only for customers via our Reward Points program
Last photos 
All photos with our embroidery designs in Gallery
Look at a huge number of beautiful and successful real projects with our work. You can us tags for search.