Ask a question about this design.
Check out this machine embroidery design we've just released in our collection of teddy bear machine embroidery designs. It features two beige teddy bears in love. These cuties have hidden in pink boots that stand forgotten on a lush summer meadow – how cute this is! The color palette in this design is a mix of blue frost, ruby glint, spruce, chocolate, auburn, mountain rose and oyster among others. This needlework will make a charming addition to any of your favorite stuff, for example towels, blankets, pajamas, bathrobes, napkins, sweaters, gift boxes, toys, T-shirts, onesies, rompers, napkins, etc. 
Please look similar popular patterns.
Comments
Posted by
sharontate
on
Mar 3rd, 2019
I didn't see these cuties before. Is it a new pattern? Just downloaded the design to mu embroidery collection and looking forward to embroidering it! Smooth transaction.
Posted by
pammiekk
on
Mar 4th, 2019
I am thinking about selling my selfmade clothes with your designs embroidered. Unfortunately I did not find the license conditions. Could you please send them. Thank you
Posted by
Support
on
Mar 4th, 2019
Specify which designs interest you for licensing. You can use this design without licensing in your embroidery business. No additional charges required.
Posted by
elisabethshields
on
Mar 11th, 2019
Wonderful embroidery) I'm excited about the two pretty bears) I'm sewing a baby set of clothes for my grandchildren, a boy, and a girl. Sewed out in two colors. Great pattern! I will purchase from here again exactly. Cheap price also a great plus)
Posted by
Support
on
Apr 17th, 2019
Everyone loves teddy bears. Teddy bears love to be together. Beautiful romantic plot.
You must be logged in to leave a reply.
Login »
How can this design be used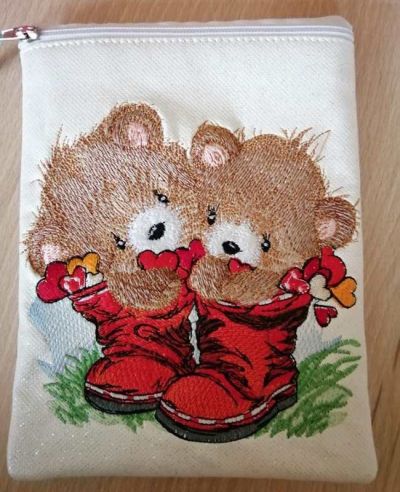 The collection of machine embroidery designs Teddy bears in love can decorate personal items and household items. They will look great on tight scarves and lightweight handbags, covers for smartphones, towels, blankets. Of course, provided that their favorite gives. Such things touches, stay for a long time and always remind of the care of loved ones. Machine embroidery designs with cute bears are sure to be useful for lovers of embroidery and for manufacturers of goods.
For making a similar product, choose a thick fabric. This guarantees you a long term use of the product and the absence of problems with embroidery.
The project is not complicated, in addition you will need an middle density stabilizer of 60-80 grams per m2, and zip.
Additional tip: Use needle М975 / 11 for the best result. 
Our benefits:

Instant download design after paid


Over 14 embroidery formats

Tested embroidery designs


Progressive discount system

Several sizes with one payment

No VAT and FEE , we pay it.

Additional bonus free embroidery designs



New embroidery projects
with our works
New free embroidery designs
available only for customers via our Reward Points program
Last photos 
All photos with our embroidery designs in Gallery
Look at a huge number of beautiful and successful real projects with our work. You can us tags for search.