Please look similar popular patterns.
Comments
Posted by
BrittanyRuth
on
Aug 17th, 2019
Absolutely beautiful heart design...I bought it to embroider on a small cushion but have used it on other things already.
Thank you... it will get used a lot... so pretty
You must be logged in to leave a reply.
Login »
How can you use this romantic design.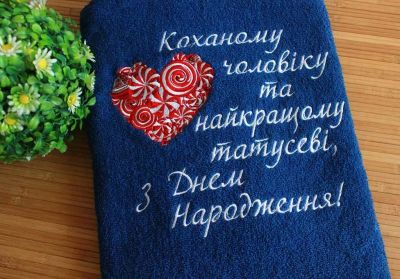 When you think about what to give your husband or your loved one, think about your embroidery machine. Embroidered gift will be the most original and practical. A towel is always a necessary thing in any home. Personalized with an inscription or name, it will definitely be a hit on any birthday. A big red heart will symbolize your big feeling of love. The perfect solution for Valentine's Day. Using a terry cloth, do not forget to use a special stabilizer. We put it on top to avoid problems with nap.
Our benefits:

Instant download design after paid


Over 14 embroidery formats

Tested embroidery designs


Progressive discount system

Several sizes with one payment

No VAT and FEE , we pay it.

Additional bonus free embroidery designs



New embroidery projects
with our works
New free embroidery designs
available only for customers via our Reward Points program
Last photos 
All photos with our embroidery designs in Gallery
Look at a huge number of beautiful and successful real projects with our work. You can us tags for search.