Bath towel with Teddy Bear embroidery design
For our embroidery, we've chosen an ordinary bath towel which can be purchased in the nearest store. This towel was bought in everyday supermarket.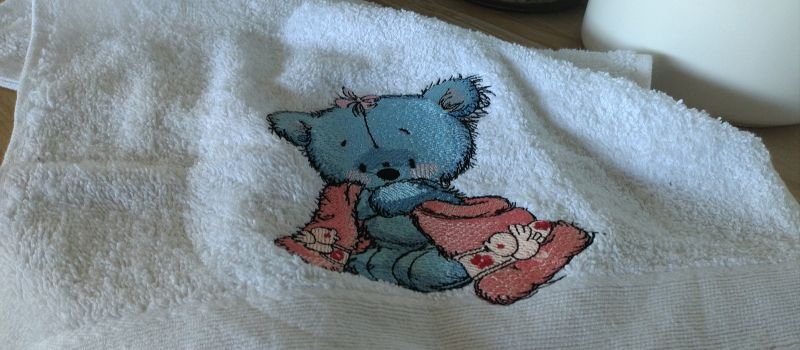 When choosing a towel, you should take into account the following: it should have a large enough even-surface area for the embroidery. E.g., there shouldn't be any other embroideries or decorations on it. Don't forget the hooping allowance (or find a smaller design). The fabric shouldn't be excessively dense.
For our embroidery we've chosen a Teddy Bear After the Shower design. It best suits our item. We'll use 2 layers of a 80 g/m2 tear-away stabilizer backing. It's also necessary to place a water-soluble stabilizer (Avalon, etc.) on top. It will trample the pile, sparing us the trouble of dealing with a textured surface.
Choosing thread colors, don't forget that the fabric is white. Therefore lighter shades will be preferable. Hoop the smoothest area and tighten the screws as much as possible (the towel surface is uneven, some areas, especially in the corners, being harder to hoop than the others). We'll embroider our towel on a multi-unit embroidery machine with the speed of 450–600 stitches per minute. This is an optimal speed as regards the quality and the noise. The item will be ready in just 40 minutes.
This design available here Teddy Bear after shower embroidery
Comments
Posted by
cindymae68
on
Jun 12th, 2017
I have done a few towels in the past and I wonder why did you use 2 layers of tear away stabilizer? I only used 1 and it seemed to work good. did you use a lighter weight? mine was medium weight.
CINDYMAE68
Posted by
Support
on
Jul 16th, 2017
My opinion.. 2 layers stabilizers -very cheap, different i can left towel.
Posted by
BEAUDE
on
Feb 23rd, 2018
pouvez-vous réaliser en broderie le pokemon tokotoro?
You must be logged in to leave a reply.
Login »
Last photos 
All photos with our embroidery designs in Gallery
Look at a huge number of beautiful and successful real projects with our work. You can us tags for search.