Embroidered kitchen napkin with Mosaic Bunny design
We purchased a set of simple kitchen napkins. Presumably they're made of cotton/synthetic fibers.
Nobody could find more suitable fabric for a test piece. It has an smooth white surface. This is medium-density fabric. Both big and small hoops can be used. The hoop can be easily readjusted. We use these quite often. This time we decided to embroider a mosaic design.

"Mosaic" is an assumed name. The machine embroidery design has nothing to do with this decorative art form. It's just a sole-colored embroidery made with the use of various techniques, such as common satin stitch embroidery with thinner lines inside.

Being simple, this design requires no stabilization. Any stabilizer upwards of 40 g/m2 will do. The speed isn't critical either, because there are no color changes. The embroidery will be ready in just an hour. Very simple. Ideal for t-shirts. Very good for commercial use. Using variegated embroidery threads will give additional effects.
Mosaic Bunny embroidery design is available here.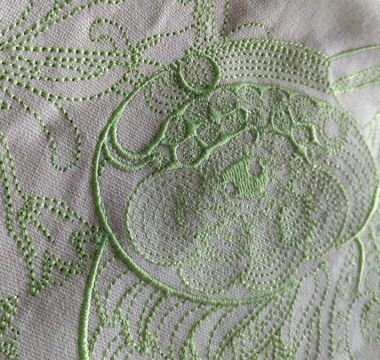 Comments
No comments. Leave a comment ...
You must be logged in to leave a reply.
Login »
Last photos 
All photos with our embroidery designs in Gallery
Look at a huge number of beautiful and successful real projects with our work. You can us tags for search.