The Cute and Funny Embroidered Gift for Christmas
We're this close to the start of the most fabulous season of the year! The preparations to the Christmas festivities are in full swing so it's high time to get your Christmas presents and home decorations all sorted out.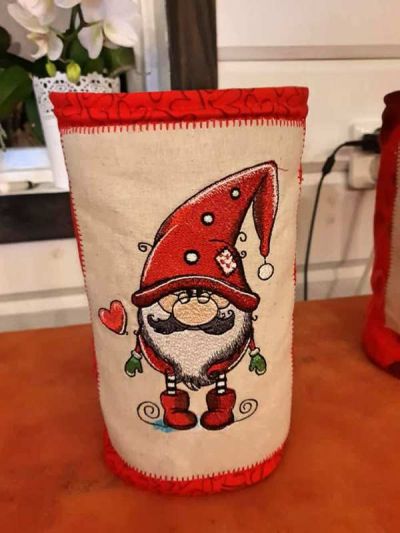 Christmas embroidery design is one of the most creative ways to personalize your gifts. The usual Christmas presents just feel so ordinary so why not spruce them up with some funny and meaningful needlework tailored to the spirit of the holiday and the personalities of your dearest ones?
Check out this embroidered gift which is a perfect example of a Christmas-inspired design. It features a delightfully comical dwarf dressed in a Phrygian cap with a heart-shaped decor, a brown sweater, a pair of red mittens, striped stockings and black carnival shoes. The dwarf has a large nose and a luxurious white beard. He's glancing mischievously from under his cap holding a vintage lantern casting a warm light. A beige birdie in a red Christmas hat is keeping the dwarf some company.
This lovely embroidery design is compatible with Bernina, Brother, Janome, Melco, Husqvarna/PFAFF, Tajima/Barudan, Husqvarna, Singer. All of our color palette formats are available for download in Embird: edr, rgb, txt.

A Christmas embroidery design like this also allows for a great versatility and can be used for a whole variety of creative objects. It works perfectly with all kinds of fabrics.
For example, you can stitch it out to any sweaters, mittens, scarves, pajamas, T-shirts, towels, bathrobes, bed linen, blankets, quilts, cushions, napkins, tablecloths, oven gloves and anything in between. You'll love how easily the needlework stitches out and how it instantly transforms the most ordinary item into a colorful and unique gift!
Gnome in phrygian cap with hearts holding lantern embroidery design
Comments
No comments. Leave a comment ...
You must be logged in to leave a reply.
Login »
New free embroidery designs
available only for customers via our Reward Points program
Last photos 
All photos with our embroidery designs in Gallery
Look at a huge number of beautiful and successful real projects with our work. You can us tags for search.