Check out this fabulous winter-themed embroidery design that might just be the perfect inspiration for your next project! It features a little girl in a blue coat, red mittens and a large winter hat decorated with a blue ribbon and a bunch of holly. The cute fair-haired girl has stretched her hand to try and catch a snowflake. At her feet, there's a mousekin wearing a red scarf. The color palette is incredibly intense and arresting: saffron, Baltic blue, opaline, erin green, chocolate, gold, etc. This is a great design to put on towels, blankets, sweaters, pajamas, quilts, cushions, gift boxes and more.
Please look similar popular patterns.
Comments
Posted by
DorothyDean
on
Dec 27th, 2018
I've sewed the girl catching a snowflake on a towel to make a gift to my darling friend. Worked out perfectly well on Brother embroidery machine. Thanks! LOVE IT! Will be ordering from the shop again!
Posted by
csensat
on
Jan 4th, 2019
Super cute embroidery design. love it!
Posted by
Blair
on
Jan 4th, 2019
Is there any way that this girl embroideyr can be resized down to fit a 4 x 4 hoop?
Posted by
Support
on
Jan 4th, 2019
Unfortunately this is not possible. The size you specified is very small. You can increase the size, but not reduce. The design can get very deformed.
Posted by
Tusya
on
Jan 8th, 2019
Sewed out perfect, wonderful design
You must be logged in to leave a reply.
Login »
How to use this design.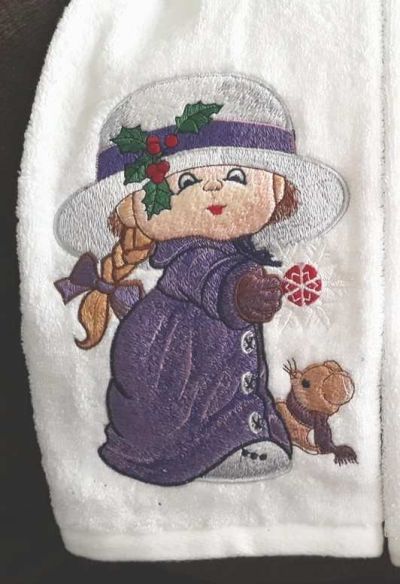 Machine embroidery on terry cloth: Tip.
Using the printed design template, mark the center of the embroidery on the towel.
Apply a layer of adhesive spray on the tear-off non-glue stabilizer.
Glue the towel to the stabilizer.
Place a layer of water-soluble stabilizer on top.
Tie the resulting sandwich into the hoop, combining the center marks on the towel and the rim of the hoop.
Securely tighten the screw.
Put the hoop in the machine.
Load a machine embroidery design using USB-flash or select a design from the memory of a sewing embroidery machine.
Embroider the design.
After finishing embroidery, remove the sandwich from the hoop.
Cut or tear off the lower stabilizer.
While holding the material with your hand, tear off the upper stabilizer.
To remove the stabilizer between the embroidery objects, wet the sponge with water and blot. You can soak and even wash the embroidered product by hand.
Care of the embroidered product.
In order for the embroidered product to delight you for many years (well, well, at least for months), you should learn to care for it. Upon completion, remove the upper and lower stabilizers. Gently iron the product around the embroidery area.
An important limitation contrary to the technology of machine embroidery is that wet-heat treatment of terry fabrics is not recommended. Loops crush, spoils the overall look of the product, it looks sloppy.
To circumvent this limitation, you can, if you hold the iron "on weight", without touching the fabric and use the steam boost function. Or, use as a substrate something soft, for example, a blanket, or an old terry towel.
Washing terry products are transferred positively, therefore, if the choice of threads was successful, your product is not threatened by either high temperatures of the washing machine or chemicals.
Our benefits:

Instant download design after paid


Over 14 embroidery formats

Tested embroidery designs


Progressive discount system

Several sizes with one payment

No VAT and FEE , we pay it.

Additional bonus free embroidery designs



New embroidery projects
with our works
New free embroidery designs
available only for customers via our Reward Points program
Last photos 
All photos with our embroidery designs in Gallery
Look at a huge number of beautiful and successful real projects with our work. You can us tags for search.