Please look similar popular patterns.
Comments
No comments. Leave a comment ...
You must be logged in to leave a reply.
Login »
How to use this design.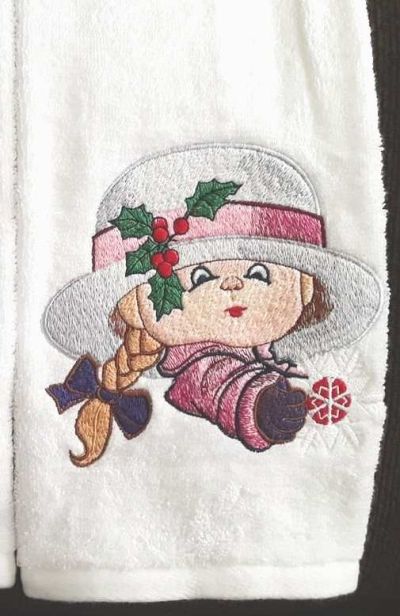 Sometimes when dealing with novice users or those who only choose an embroidery or sewing embroidery machine, they ask me the question whether embroidery on terry cloth is possible? The answer is of course yes, but! Need to comply with the technology of embroidery on such a fabric. In the mahr or high pile, the stitches of the embroidered design can get lost, the thread or the needle get tangled at high embroidery speeds. This can break the needle, or even ruin the embroidery.
The materials are used to make this embroidered towel.
Hoop size 180x300 mm
Machine Embroidery Top Thread
Machine embroidery bobbin thread
Disappearing marker for sewing and embroidery
Spray adhesive for temporary fixation of tissue
Terry towel size from 250x500 mm or more
Water soluble stabilizer for machine embroidery - use from above
Non-adhesive cutting stabilizer for machine embroidery, use the bottom.
Machine Terry Embroidery: Tips
When choosing a design for embroidery on terry cloth, give preference to designs with dense stitch filling. Designs created by straight stitching after the first wash can be lost in the high pile of the fabric.
Water-soluble stabilizer for machine embroidery is used to stitch lay even when embroidering. This stabilizer is used as the top stabilizer.
Water-soluble stabilizer for machine embroidery is available in the form of a film of different densities or non-woven fabric. The video uses a dense water-soluble film stabilizer, but you can safely take a thin water-soluble film. It can be quickly and easily removed after embroidery design.
As a lower stabilizer, use a cutting or tear-off non-glue stabilizer. Tear-off stabilizer is preferable because it can be quickly removed after embroidering.
Use printed design patterns to determine the location of the future design on the fabric. You can print a design pattern using PE-Design software.
Our benefits:

Instant download design after paid


Over 14 embroidery formats

Tested embroidery designs


Progressive discount system

Several sizes with one payment

No VAT and FEE , we pay it.

Additional bonus free embroidery designs



New embroidery projects
with our works
New free embroidery designs
available only for customers via our Reward Points program
Last photos 
All photos with our embroidery designs in Gallery
Look at a huge number of beautiful and successful real projects with our work. You can us tags for search.