Teddy Bears embroidery designs
Enhance the garments with Teddy bear embroidery design collection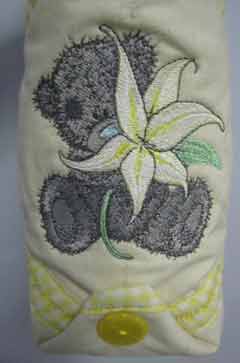 Every kind of embroidery is a decorative art done involving beautiful stitching on fabrics as well as canvas. A large collection of machine embroidery designs like teddy bear and friends, teddy bear appliqu? up will help you to explore your imaginations and experiment with your creativeness if you have learnt this art of stitching with needles and thread. An embroiderer can easily produce his expression and wonderful works by mixing different types of embroidery designs such as Toy story and Winnie Pooh.
The needlework embroidery designs and styles mainly depend upon various fabrics used by any specific culture, or passed on to you from generations. Some of the fantastic and reputed domains have inspired commercial embroiderers and enthusiasts at home by providing designs that vary in styles, subjects, sizes, and shapes, formats and more to suit the your requirements. These designs are instantly downloadable and give you a choice to pick from thousands of wonderful designs such as Yo Gabba Gabba, The Jungle Book, The Incredibles, Too nix and a lot more, which means there is something for everyone with different taste and preference.
Each design added in the website is drawn in a digitized manner and then test stitched to ascertain the factor of exceptional quality. The catalog on such websites also have some of the famous designs like The Nightmare before Christmas, superheroes, wizard of oz, south park and seven dwarfs. Not only these you will also find transformers and Wall-e to amaze you with their huge assortment of selection.
Embroidery is a true art which also depicts culture by many of us today and for some people it's a hobby as well. However some people think it's a boring job to produce a stitched pattern on a fabric and end up concluding embroidery to be sheer time waste and uninteresting. The blue nose machine embroidery design has become the most popular embroidery design these days and is available in many formats, different colors and nearly two to four sizes. The digitized formats of blue nose machine embroidery design can be downloaded directly from the websites or simply purchased from a local embroidery shop.
In case you have learnt it, you can discover the incredibly fascinating instantly downloadable designs of rainbow brite, Scooby doo and precious moments. You can download them any time which means it does not matter whether its day or night. The machine embroidery design can make your work much easier and simple. Either you can maintain simple embroidery or dive into different styles. The designs are free as well as affordably priced ranging from one US dollar to nearly ten US dollars. Many fresh designs are also accessible each day making it easier for you to browse fashionable and up to date styles for your projects on embroidery.
With their latest posts and updates, you get inspiration to enthusiastically perform your best in your embroidery project such as Teddy bear embroidery tatty teddy. This embroidery collection has colossal designs to grab your most favorite at reasonable price.
Last photos 
All photos with our embroidery designs in Gallery
Look at a huge number of beautiful and successful real projects with our work. You can us tags for search.