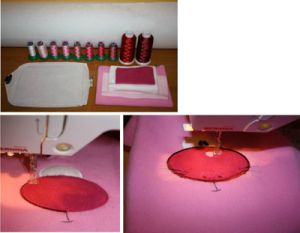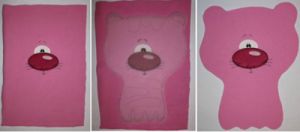 Here is the embroidered result. Then place the transparent template made ​​of thick a semitransparent film, so that little face on the film coincided with embroidery. Cut out the main part of the (front part).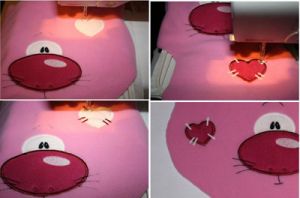 Then, at the cutout of the kitty embroider applique hearts and patches, can be embroidered in any place, as someone like that. It depends on your imagination and desire. You can also change the color (for applique fabric) of your choice.
Using a template, cuts out all others any parts of kitty pillow: the back part, parts of tail and ears middles.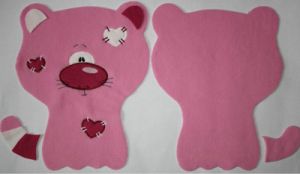 Sew all parts of tail.

Accurately turns tail. And then fill it with synthetic padding or any other filler. The choice depends on the filler will be used as a pillow. Padding polyester allow the use of liquid detergents, stain if the baby pillow.

You can use a synthetic fluff. This material is crushed and long lump. He is on the structure of both springs . After that sews up the tail to make it easier sew to kitty.

You can not do this if your experience allows it. Now sew the tail to the kitty main part.

Sew the ears to main part of kitty pillow.

Here we use this type of stitch to sew the ears. This is a recommendation. You can use any other suitable type of stitch that you have on your embroidery machine.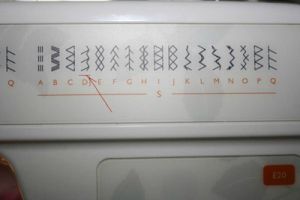 The front part of the pillow "kitty" is fully ready. Impose on the back of the front and sew together. Leaving to the side is not sewn up the hole about 10 cm long, so it passes freely entered hand.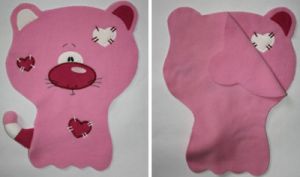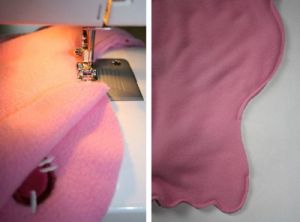 Up turning stitched together parts of kitty.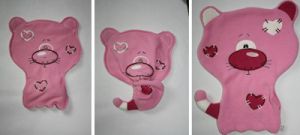 Fill with synthetic padding or other filler. We start from the ears, then the head and lower part of the pad. "Kitty" is plump. It remains only to hand-sew the opening. And here is the finished toy pillow. Kids really like, especially the bed, hugging a soft friend.

Applique free embroidery designs
Pillow kitty with applique and free machine embroidery
Heart applique free embroidery design 1:
Size: 46 x 43 mm, 1.81' x 1.68'
Colors; 3
Stitches: 1768
Heart applique free embroidery design 2:
Size: 60 x 51 mm, 2.36' x 1.99'
Colors; 3
Stitches: 2148
Kitty face applique:
Size: 138 x 127 mm, 5.44' x 4.98'
Colors; 3
Stitches: 4774
Templates for pillow: For open need free software Adobe Acrobat Reader. Download template. Warning - size format A3 (297 x 420 mm). Cut a piece of fabric around 40 cm x 50 cm (the size of the pillow kitty goes 30 cm x 40 cm). Load the machine embroidery file kitty.* to the embroidery machine and embroider snouts kitties. Small hint. You do not need precise positioning of the design kitty face. All this is doing approximately.
Present to your attention absolutely free project Kitty Pillow. This project is kindly provided to us by Irina Hornung (Lithuania) For this pillow you will need the following materials; fabric, machine embroidery thread, stabilizer. Fabric. For such a kitty is used fleece fabric (you may use any suitable density). Free embroidery designs and applique. You need download free applique designs for this pillow. Please choose embroidery format for your embroidery machine.
Download
Download
Download
Download
Comments
Posted by
KlondikeKate
on
Feb 13th, 2019
I can't wait to make this cutie! I believe I will also incorporate your appliqued Kitty design onto a quilt. Thank you.
Posted by
KlondikeKate
on
Feb 13th, 2019
Question: How and or Where do I download the template for this kitty?
Posted by
melody1206
on
Feb 13th, 2019
I have tried to download. the file does not show a picture just "gibers " not readable language. It does not give me the option to unzip the file. I have MAC. What am I doing wrong?
Posted by
NatsGirl
on
Feb 13th, 2019
Where do I find the templates for the body ,ears and tail ?
Posted by
Support
on
Feb 13th, 2019
melody1206: We have not had a similar problem before. Please drown what version of the operating system are you using?
Which browser are you using?
Do you see such a problem on all pages?
Posted by
Support
on
Feb 13th, 2019
NatsGirl, KlondikeKate: Template available here https://embroideres.com/index.php/download_file/898700/51080/
You must be logged in to leave a reply.
Login »