Christmas free machine embroidery collection
Welcome to category of Christmas machine embroidery designs by Embroideres! Getting ready for Christmas and casting around for innovative Christmas embroidery ideas? We are exited to present a new collection of Christmas free machine embroidery to uplift your mood of joy and celebration. These bright and creative designs will get you into the right spirit of Christmas as well as help out to chase the "Scrooge" away. Loads of tender care has gone in creating each Christmas free machine embroidery design you'll find here---from Christmas bells to candles and curls all the designs have different appeal in textures as well as fills. Create a charming Christmas pattern with the high quality free Christmas embroidery designs by Embroideres. Make a nice hand made gift, sew a napkin or a quilt. These simple embroidery designs are colorful and can be combined with other beautiful designs to achieve wonderful results.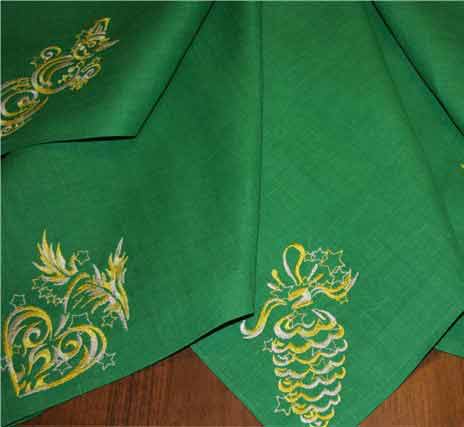 Christmas is the popular and most awaited holiday time of the year but also the busiest time too – loads of gifts to be purchased and shopping leaves everyone exhausted. Whether you're searching traditional Christmas designs, whimsical or realistic patterns, you'll have what you need for decorating your home and creating memorable holiday gifts to be cherished for years. These gorgeous creations are exclusively for Christmas, designed by keeping latest trends in mind. You will surely find something new and exciting for this Christmas!
Our confidence and aim is to offer you best imagination and conception of designs, but at the same time we don't puzzle you with too many repeated Christmas patterns. With our exciting Christmas free machine embroidery assortment you will see a sharp transformation in your sewing endeavor. Enjoy browsing our Christmas machine embroidery designs and hand made gifts mall showcasing many assorted embroidery designs as well as projects.
Want to give someone a beautiful gift? We know how to help you impress your loved ones. Christmas is a celebration that is incomplete without greetings and gifts. With big bunch of embroidered gifts on our design platter you can spend your time with your family and friends. Just pick the one you like and all enjoy the 'Xmas' fiesta without any worry. We specialize in affordable and adorable high quality embroidered and hand made gift designs for all occasions. Embroidered gifts are appreciated by all for the beauty and elegance those gifts carry. Definitely our embroidered gifts have loads of wow factors to astonish and amuse the person you are wanting to gift. We assure, you will graciously receive compliments and will be remembered for years ahead. So don't be late, grab a gift today before the stock is over; make your loved ones happy.
This page shares some great Christmas designs with you, so please try out some of our free Christmas embroidery designs and have great fun on this website. Our prime aim is to give the best service to all of our valued customers, anytime and every time!
Thank you for visiting, have fun & "Merry Christmas!
New embroidery projects
with our works
New free embroidery designs
available only for customers via our Reward Points program
Last photos 
All photos with our embroidery designs in Gallery
Look at a huge number of beautiful and successful real projects with our work. You can us tags for search.