This adorable embroidery design is inspired by one of the world's most beloved Christmas and fairy-tale characters of all times. A funny and clumsy gnome is about to invite you to embark on a Christmas adventure! He has a turquoise polka dot Phrygian hat on, which comically towers upon his head. The hat even has a few patches on it! To keep himself warm in the midst of winter blizzards, the gnome wears striped stockings and red boots. Like all gnomes, he has a gorgeous white beard, big nose and kind eyes. The embroidery design will be a perfect addition to any clothing, pillows, towels, napkins or bags.
Please look similar popular patterns.
Comments
Posted by
liannde
on
Jul 20th, 2018
Perfectly digitized - stitches out beautifully. This embroidery stitched out wonderfully. This was my backup as the first design I chose stitched out poorly. i am very happy with the turn out! THANK YOU!
Posted by
annarita
on
Aug 26th, 2018
Cute designs for Christmas towel. Absolutely adorable! Perfect embroidery for a quilt or tablecloth!
Posted by
NanaBlau
on
Aug 27th, 2018
Cute embroidery Christmas dwarf. thank you!
Posted by
ecusw
on
Sep 6th, 2018
I am a 91 year old grampa who embroiders designs for the grandchildren.on their t-shirt- jeans etc. At the moment one granddaughter wants a pig on her shirt. How do I send her photos of several designs so I can buy the one she wants.
Thanks
Posted by
Support
on
Sep 6th, 2018
Thank you/ Please send to info (dog) embroideres.com or Our Facebook group https://www.facebook.com/groups/embroideresstudio/
Cheers
Posted by
mae
on
Sep 13th, 2018
Very cute and easy to use.Love this Christmas embroideyr design! And my customers do to!!
Posted by
Ninny23
on
Sep 23rd, 2018
This dwarf stitches out precisely as shown. Very Nice!!
Posted by
kbuckbinder
on
Oct 25th, 2018
Sews out nice and really cute
Posted by
seija
on
Dec 13th, 2018
Very fast!! We shop with again!! I LOVE these gnomes! Thanks Thanks!!
Posted by
TammyTammy
on
Mar 30th, 2019
Exactly what I needed to finish a project. It was fun to work with the design! I have found several more uses for this gnome))
Posted by
Susan1888
on
Jul 2nd, 2019
Very cute design. I like the size options. Great for Christmas gifts. I really enjoyed working with this shop!
Posted by
SarahBernas
on
Nov 7th, 2019
My youngest g'daughter picked out this design over all other Christmas designs. It is just too cute and sure she would be more than delighted with the result!
Posted by
lgudgeon52
on
Oct 8th, 2020
I did not receive the jpg files for the color charts for these 2 designs.
Posted by
Support
on
Oct 8th, 2020
You left choose option. Color chart in order download page.
Posted by
zitofive
on
Nov 19th, 2020
After a practice stitch-out, I was very pleased that all went well, and it is as described. I'm excited about purchasing more designs
You must be logged in to leave a reply.
Login »
How to use this design.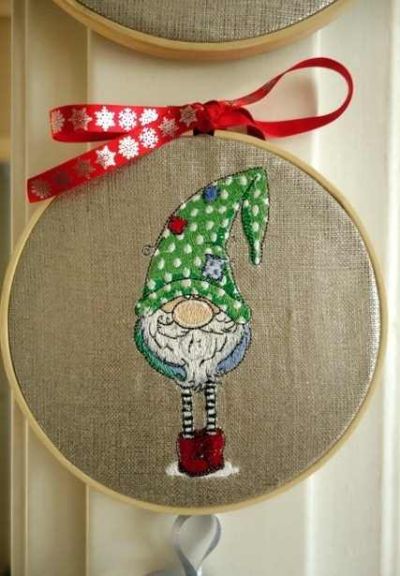 Decorating a house for Christmas and New Year is one of the oldest and most pleasant traditions. During the winter holidays, everyone wants their home and especially the living room to look elegant. Traditional Christmas tree and socks on the fireplace are complemented with napkins and tablecloth on the festive table. We offer you a new look at the decoration of the front door. And replace the wreath of fir branches with an original design with a gnome. In a round wooden frame, embroidered with bright colors of threads and decorated with red ribbon, this will definitely be your new experience. This is a versatile option that can also be used on the wall. Given the fact that in our library of embroidery you will find a large selection of designs, you can make a whole series of works of similar styles. They can also be used as a handmade Christmas gift. Embroidered things look very presentable. Made in a single copy, they will always be pleasing to the eye, and give pleasant memories
Our benefits:

Instant download design after paid


Over 14 embroidery formats

Tested embroidery designs


Progressive discount system

Several sizes with one payment

No VAT and FEE , we pay it.

Additional bonus free embroidery designs



New embroidery projects
with our works
New free embroidery designs
available only for customers via our Reward Points program
Last photos 
All photos with our embroidery designs in Gallery
Look at a huge number of beautiful and successful real projects with our work. You can us tags for search.