Decorate your favorite belongings with this stunning machine embroidery design! It features a luxurious composition of burgundy red roses, accentuated beautifully with black. The color palette is a mix of tuxedo red, burgundy, pro cinnamon, yellow, violet, grey and black. The two roses in full blossom make a beautiful floral duo. You can use this original needlework to creatively enhance any items of your choice: denim jackets, dresses, T-shirts, sweaters, pajamas, towels, bathrobes, tablecloths, napkins, cushions, quilts, blankets, makeup bags, purses and much, much more.
Please look similar popular patterns.
Comments
Posted by
Morgantoday
on
Jan 27th, 2019
Adorable roses pattern! Stitched out very well, exactly as shown on the picture. I've decorated my velvet jacket with the embroidery. Turned out harmonic and stylish, thanks!
Posted by
sandavis28
on
Jan 28th, 2019
I purchased two designs today as EXP however coming to download them I have only the option to click on the colour chart jpg version of one of the designs.
Please inform me on how to get the EXP to download .
Posted by
Support
on
Jan 28th, 2019
Thank you for message. The problem is solved. We also sent designs to you by email.
Posted by
garshin87
on
Feb 16th, 2019
I wanted to hide a little spot on a blouse using the design. Turned out perfectly well!! Thanks! Stitched it out with no holes or jumping and the spot is invisible now. I'm happy!
Posted by
glenthomas
on
Feb 25th, 2019
I'm sorry. I have lost all my patterns and I would like to know what this one was?
Posted by
Support
on
Feb 25th, 2019
Your ordered deigns saved. You can download again in Order History.
You must be logged in to leave a reply.
Login »
How to use this design.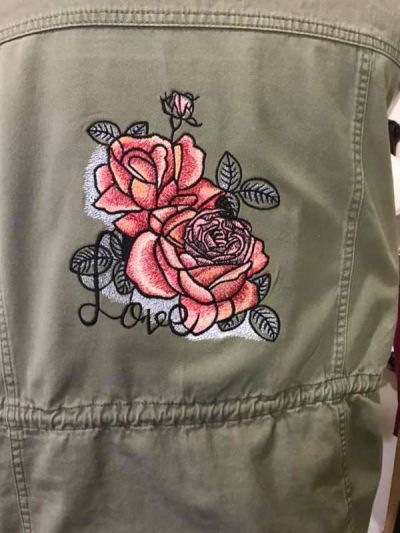 Dense machine embroidery designs with floral and romance motifs will be a wonderful decoration for your denim jacket. It is not necessary to buy a new thing, you can easily turn an old product into a new fashionable and original thing.
Denim is a very popular material for embroidery. It is thick enough to embroider any design on it. He is least subject to deformation and stinging.
The back of the women's jacket is the largest empty space. Without difficulties, it can be turned into a field for your creative searches.
Materials that you will need:
Old denim jacket
Threads for embroidery (any manufacturer)
Embroidery thread
Tear away, cut-away or detachable glue stabilizer with middle densiry (60-80 gramm per m2)
Machine embroidery design
Our benefits:

Instant download design after paid


Over 14 embroidery formats

Tested embroidery designs


Progressive discount system

Several sizes with one payment

No VAT and FEE , we pay it.

Additional bonus free embroidery designs



New embroidery projects
with our works
New free embroidery designs
available only for customers via our Reward Points program
Last photos 
All photos with our embroidery designs in Gallery
Look at a huge number of beautiful and successful real projects with our work. You can us tags for search.