Please look similar popular patterns.
Comments
Posted by
GrettaClrksn
on
Nov 16th, 2018
THank you for your great job! You create such high-quality designs! I've ordered this Nestbox for tits for embroidering a set of bannerettes. I also used several designs in the same style for it. Stitches great! Very nice colors and pretty composition. I've never had any problem with embroidering. Love the site. Would surely recommend the shop to everyone who wants to find good patterns.
Posted by
meBailey
on
Nov 20th, 2018
I embroidered the nest box on the Xmas tablecloth. Looks stylish. Embroidered not very fast but it's worth it. Thanks to the designer.
Posted by
amberrose22
on
Dec 17th, 2020
Love this embroidery design! Stitched well and no problems downloading. Thank you!
You must be logged in to leave a reply.
Login »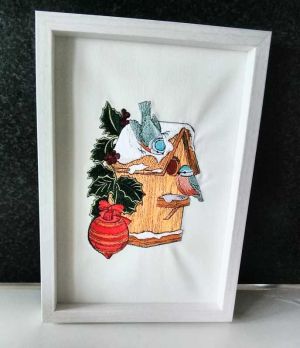 One of the easiest ways to use machine embroidery designs is to frame them. This beautiful winter project with birds can be used as an element of home decoration for the holiday of Christmas or the New Year. This does not require complex materials. The frame can be bought at any nearby department store. This is convenient when you need to make a gift quickly and you do not have the necessary skills.
Our benefits:

Instant download design after paid


Over 14 embroidery formats

Tested embroidery designs


Progressive discount system

Several sizes with one payment

No VAT and FEE , we pay it.

Additional bonus free embroidery designs



New embroidery projects
with our works
New free embroidery designs
available only for customers via our Reward Points program
Last photos 
All photos with our embroidery designs in Gallery
Look at a huge number of beautiful and successful real projects with our work. You can us tags for search.