Please look similar popular patterns.
Comments
Posted by
tterrell
on
Dec 6th, 2013
lol this Teddy are excellent
Posted by
Jauito35
on
May 1st, 2020
I loved this Teddy bear design! It stitched out beautifully on a pillow case and is now one of my favorites!
You must be logged in to leave a reply.
Login »
How to use this design.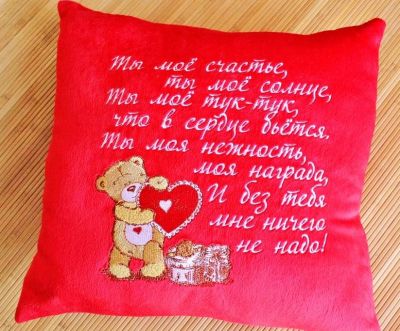 Gifts made with love will never be ignored. Pillows - a product that we use in everyday life. We do not take into account the usual pillows that are used for sleeping. We are talking about cushions. A permanent element of comfort and home decor. The usual variants of solid products are not always an interesting option. A good choice is hand-made pillows decorated with machine embroidery.
If there is a birthday or Valentine's Day ahead, use a design with elements of romance and love. Such a project will be a great addition to the sofa in the living room or an original gift. Add words of love or a wish for health and well-being.
Use free cushion areas to choose a large design size. Of course, if your hoops allow it. In the alternative case, you can embroider several different, but identical in style designs. This will create a single composition. A series of products made in the same style will be a clear hit for your home.
Our benefits:

Instant download design after paid


Over 14 embroidery formats

Tested embroidery designs


Progressive discount system

Several sizes with one payment

No VAT and FEE , we pay it.

Additional bonus free embroidery designs



New embroidery projects
with our works
New free embroidery designs
available only for customers via our Reward Points program
Last photos 
All photos with our embroidery designs in Gallery
Look at a huge number of beautiful and successful real projects with our work. You can us tags for search.