Please look similar popular patterns.
Comments
Posted by
Klik
on
Feb 6th, 2014
Dear Sir/Madam, can I embroider your designs on to products/garments to be sold commercially?
Posted by
Support
on
May 22nd, 2014
Yes, no problem if you ask only about this Panda embroidery design.
Posted by
Bergermaru
on
Jul 11th, 2019
This design is really cute! Just done it on my new embroidery machine and had no problems and I am just happy that I purchased it
You must be logged in to leave a reply.
Login »
How can this design be used.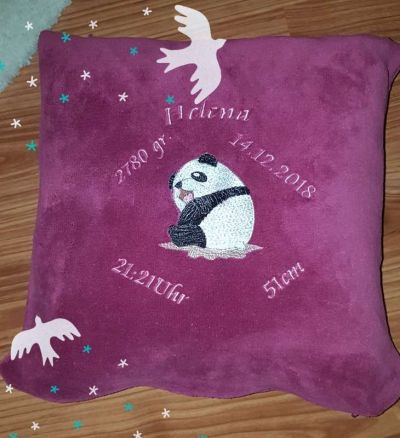 The embroidered pillow is an excellent home accessory and a good gift for a housewarming party. To make it easy, you do not need to have specialized knowledge and a lot of time. Pattern pillows one of the easiest. It consists of two identical pieces of cloth. When making a pattern, consider the size of the future embroidery.
Whatever function the cushion carries, we suggest decorating it with machine embroidery. Embroidered pillow is an original corporate gift. In itself, a pillow is a large field for placing any corporate symbolism, original inscription or any necessary pattern. The cushion with embroidery has come in and has firmly taken its place as promotional gifts due to its low cost, practicality and accessibility.
Decorative pillow - the addition of any interior
Throw pillows for so much firmly entered into our daily life that sometimes you already understand how it is possible without them. Decorative pillow with embroidery is a great addition to any sofa, chair, chair.
Our benefits:

Instant download design after paid


Over 14 embroidery formats

Tested embroidery designs


Progressive discount system

Several sizes with one payment

No VAT and FEE , we pay it.

Additional bonus free embroidery designs



New embroidery projects
with our works
New free embroidery designs
available only for customers via our Reward Points program
Last photos 
All photos with our embroidery designs in Gallery
Look at a huge number of beautiful and successful real projects with our work. You can us tags for search.