Check out this beautiful machine embroidery design coming up next in our vast bird collection! It features a colorful bird sitting on a rock. This needlework masterfully combines watercolor and sketch techniques. The bird has luxurious plumage the colors of bluestone, saffron, aqua pearl, pumpkin, wonder blue and chocolate. It also has a long beak and a curious black shining eye. This beautiful embroidery design will be such a great addition to any items, for example cushions, napkins, tablecloths, quilts, bed linen, blankets, towels, pajamas, sweaters, hoodies, T-shirts and much more.
You may wish to consider other color combinations for this project. They can be found in our community and downloaded for free Alternative color charts for Bright birdie embroidery design. In case you need a different color chart, please write to us.
Our benefits:
Instant download design after paid

 

Tested embroidery designs

 

Progressive discount system

 

Additional bonus free embroidery designs

 
Related embroidery deisgns


Comments
Beautiful bird design! It looks great both on a blouse and interior things. Stitched out the design recently, it would a great gift for my friend! Thanks to the seller for good service!
HollyHoney
on
Jan 24th, 2019
Sewed with Brother 535 on the days. Great pattern! Many colors, but it is easy to change the color card and the bird looks great anyway, thanks to the designer) Great embroidery designs! I will surely buy from this seller again!
vlongrie
on
Jan 25th, 2019
I was wondering if I can sell items I make with your character embroidery on them, I.e, teddy bear, bird , princess, e.t.c or would I be breaking copyright laws? I can't see anything about it on your site and am unsure of the rules.
I look forward to hearing from you.
With thanks.
Support
on
Jan 25th, 2019
There are no projects to use these projects in your commercial activities. You can sell embroidered items at your fairs or shop.
KateKaterine
on
Jan 27th, 2019
Wonderful pattern! Thank you for digitizing such pretty birdie design! I've decorated my pillowcases using it and planning to sew the pattern on my t-shirt. I'm sure, it would be beautiful. Thanks!
mbsewing
on
Feb 12th, 2019
Goodday,
I've order and payed allready the patterns but I can't open them. But i can't open them
Please can you help me
Thank you
Support
on
Feb 12th, 2019
What embroidery machine you using? Hoop size? Where you try open it? In software? What embroidery software you have?
mbsewing
on
Feb 12th, 2019
I have a Janome memory 400 hoop size 20x20
I want to try open it on the software on the PC all the other orders I can open but the last order doesn't work. My embroidery software is Janome digitizer pro v2.0 (an old version but it still works) I can open all the other orders except the last order strange. Sorry for my bad english but I'm from Holland and hope you can follow my explanation.
looking forward to your answer
kind regards
Support
on
Feb 12th, 2019
We check all files and not found problem. We attach order and sent via e-mail.
mbsewing
on
Feb 12th, 2019
Thank you! this was so much simpler to download, again, Thank You!
First, sorry for my english, I'm french. I bought an embroidery. When I payed a message said the the transaction as not been completed and I couldn't access the embroidery.
Then, I started again, but this time the message also said that I had already bought it, but since the previous message mentioned that the order could't be processed, I accepted that I would take the embroidery again, knowing that it didn't work the first time.
When I went to download my embroidery, I realized that I bought 2 few minutes apart. Can it be possible for you to make a refund of my second embroidery ? It's not big of an amount but, still, I bought another embroidery few days before and it didn't work,the sewing is too tight so the thread brakes because of the density of the first passing thread.
If you need more explanation, don't hesitate to write to me.
Thank you in advance !
Support
on
Jun 16th, 2019
No problem. We can add this money to your account. Which design? We can help you. What embroidery machine you have?
It's the order # 197125 and 197127. I kept one of course, but don't need 2 of the same. Will it be easy for me to see that I have a credit in my next order ? If it's easy then I will keep it in my account for the next time. Thank you for answering fast. I appreciate it.
Support
on
Jun 16th, 2019
Do not worry. We have added the amount of the order value to your account balance. You can use this amount at the next purchase in our online store.
With respect to you
DeAnna24
on
Mar 12th, 2020
This is a beautiful design and I made great gifts with it! Very pleased with my purchase!
You must be logged in to leave a reply.
Login »
How can this design be used.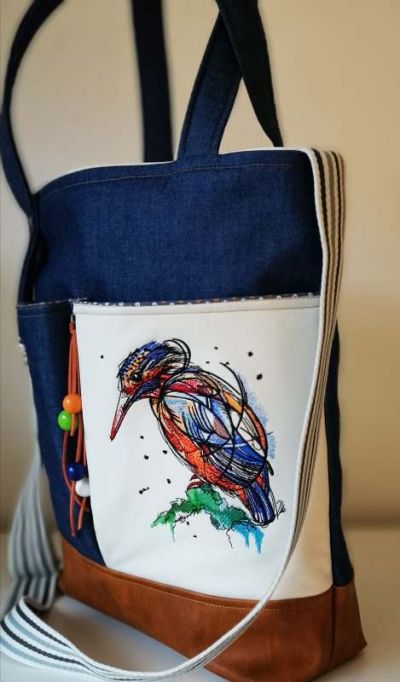 A comfortable leather bag with machine embroidery, decorated with an interesting stylized pattern will be one of your favorite accessories. The design of the bird is made in the style of a sketch drawn with watercolors. Machine embroidery on the skin, the process is not easy and requires careful preparation. The size of the bag when folded is 30.5 x 33 cm or 30.5 x 48 cm.
Machine Embroidery on Leather: Materials
Sewing dublin
Tear-off stabilizer
70 cm of leather or imitation leather
70 cm cotton fabric
Zipper 40-45 cm long
Mat for cutting fabric, roller knife
Accesories for decoration
Useful tips:
Stabilize the skin or imitation leather with a duplicate, gluing it with an iron in accordance with the recommendations of the material manufacturer. Place a detachable or detachable stabilizer in the hoop, put a layer of glue-spray on the stabilizer. Glue the skin on it.
To heal the skin is not recommended. This can lead to the fact that the material will remain traces of the hoop, which are difficult to remove.
At the end of embroidery, do not remove the stabilizer, it will additionally seal the bag walls.