Please look similar popular patterns.
Comments
Posted by
carolpeters45
on
Mar 3rd, 2019
Funny embroidery design! I've used the bunny with carrot pattern for a baby educational book. Stitched out wonderfully. I'm pleased and would surely be a regular customer.
Posted by
Support
on
Apr 17th, 2019
Embroidery for children is one of the popular options for decorating baby clothes. It is easy and simple to turn an ordinary blanket into a masterpiece.
Posted by
LadyJ77
on
Feb 7th, 2020
My first design from you... and it's more than I was expecting! Prefect stitch out, fast stitch out. SO pleased. I will be buying more!
Posted by
LeslieMoro
on
Apr 12th, 2020
I loved this Bunny with carrot design! So cute and stitched out perfectly! I will definitely shop here again!
Posted by
natbaby82
on
Feb 7th, 2021
These Bunny carrot and butterfly embroidery design is beautiful! It was just perfect for all my baby projects. Thank you!
Posted by
CindiSun
on
Mar 10th, 2021
This design stitched out wonderfully even after I had to resize it 4 times!! Thanks so much for a great design!!
You must be logged in to leave a reply.
Login »
How to use this design.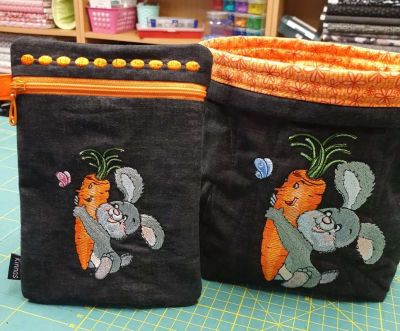 We all make gifts to friends and family. The perfect gift is the one you did yourself. A soft handbag and a basket of fabric with machine embroidery. simple and necessary things done in the same style. Become a wonderful birthday gift or a young mother. In the basket you can store toys or bibs, towels. You can keep a fresh handkerchief or food in your purse.
Embroidered products are made on patterns. In this case, the embroidery is done first. And only after that the elements of the product are sewn together. in this case, your chance to spoil the project decreases.
Our benefits:

Instant download design after paid


Over 14 embroidery formats

Tested embroidery designs


Progressive discount system

Several sizes with one payment

No VAT and FEE , we pay it.

Additional bonus free embroidery designs



New embroidery projects
with our works
New free embroidery designs
available only for customers via our Reward Points program
Last photos 
All photos with our embroidery designs in Gallery
Look at a huge number of beautiful and successful real projects with our work. You can us tags for search.