Fancy cat machine embroidery design made in mixed technique. This is an author's design in one thread color. This is convenient when you need to do embroidered item quickly and without changing colors.
Attention. Embroidery design is not available for machines with hoops 4 x 4. Do not increase and do not reduce the design self-consciously. If you need a different size, please contact us.
Immediately after downloading the aforementioned embroidery design
get several options, discount, bonuses that admit use product 100%. Included benefits
| | | |
| --- | --- | --- |
| Listed sizes. No additional fees. | Safe buy, access design files beyond restrictions. We keep every orders. | Any format or all at once. Add or change an extension when needed. Receive obtained digital art again. |
|   |   |   |
Similar popular patterns


Comments
Corinne1
on
Jan 18th, 2018
Adorable cat .Love it!!! This is the gold version my favorite.
ELENA1979
on
Feb 4th, 2018
Love these designs. They always stitch out with no problem
Majlinda
on
Feb 4th, 2018
Love this! Stitched out beautifully
AgneLau
on
May 12th, 2018
Downloaded and used this design today. Looks fantastic on a top I made myself, very pleased
mientjie
on
Jun 8th, 2018
Lovely stitch, looks great
TracySainsbury
on
Sep 4th, 2018
This is so cute and easy to stitch. Customer loved all three of them.
hanrigou
on
Sep 15th, 2018
Very easy and very neat. Stitched out great thank you Look great mynew embroidered cushion.
epellet123
on
Oct 27th, 2018
Cat if my favorite. Can't wait to make napkins for my birthday meal. titched out very nicely.
Very great seller!! Great communication and very prompt!!! Easy to download and stitches out beautifully THanks a ton!
Embroiderymonster
on
Jan 13th, 2019
Adore cats!! The lace cat portrait is wonderful! Just my dream! I've sewed several pillowcases to decorate it with the design. Turned out ideally. I used different colors in every case. Lovely result. I recommend the pattern and the seller with all my heart. Thanks!
gkammarada
on
Jan 18th, 2019
Works perfectly. Loved it. I highly recommend it
gkammarada
on
Jan 18th, 2019
I have already done some napkins. Stitched out great. Love it ! Great embroideyr digitizing.
If possible, could you just email the zipped file to my email address. Hard to navigate your site for me.
Sorry,
Support
on
Jan 21st, 2019
No problem. What size and format you need?
I have tried to checkout using your BlueSnap option. I get the message that "not authorized". Is there another way to pay for the designs?
Support
on
Jan 28th, 2019
Please use PayPal payment method. It allows you to use the card without creating an account.
Vikki89
on
Sep 14th, 2019
Just as expected, this is so lovely design! Great price, I'm happy with this purchase!
Perfect shop! Thank you for offering your wonderful designs! :)
mimibrowneyes
on
Mar 11th, 2020
I LOVE LOVE LOVE this design. In fact all these designs are amazing. No jump stitches is a major plus. Thank you, I will come back to buy more designs for sure.
ProudBam
on
Mar 29th, 2020
I have a Bernina that takes EXP + format. Do you have that? I purchased the ART, but don't think it will work.
Thanks
Jeanine
Support
on
Mar 29th, 2020
Answer to ProudBam: We have not heard about this format. What embroidery machine uses it. Most Bernina embroidery machines use the EXP format
DaCanta
on
Jan 24th, 2021
Love this cat sketch embroidery design! Works great and looks great on my machine
AnnaThompson
on
Mar 26th, 2021
Design stitched out wonderfully and was the perfect addition to a pillow case for our new house!
You must be logged in to leave a reply.
Login »
How to use this design.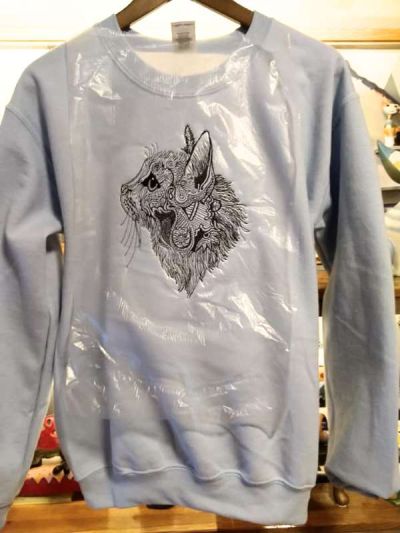 Timeless and Versatile: Embroidered Hoodies for Every Wardrobe
Introduction: The Ever-Popular Hoodie - A Staple for All Ages and Genders
Comfortable and stylish hoodies have become an essential part of almost everyone's wardrobe. Universally appealing, these versatile garments are suitable for men, women, and children of all ages. Their ever-growing popularity can be attributed to their adaptability to various styles, from sporty to classic, and their ability to flatter diverse body shapes and facial features.
The Evolution of Hoodie Designs: Keeping Up with Fashion Trends
Each year brings new and innovative hoodie designs, catering to the evolving fashion preferences of the masses. The hoodie's compatibility with both sporty and classic styles allows for endless creative possibilities, resulting in a wide array of models to choose from. With such versatility, it's no wonder that hoodies remain a wardrobe staple for people across the globe.
Personalizing Hoodies with Machine Embroidery: A Superior Alternative
Machine embroidery has emerged as one of the most effective methods for personalizing hoodies. The fabrics typically used for hoodie production—thick, soft, and sometimes shaggy—may not be conducive to high-quality direct printing. However, these materials are ideal for embroidery, even for large designs. Embroidered hoodies not only look harmonious and stylish but also avoid distorting the fabric.
Embroidered Hoodies: Original, Stylish, and Brand-Enhancing Apparel
An embroidered hoodie is a unique and fashionable piece of clothing that can boost brand recognition. Embroidery is the most durable method for applying logos, images, lettering, and patterns to hoodies, ensuring they remain vibrant and intact for years to come.
Placement Options for Embroidery on Hoodies: Unleashing Your Creativity
Embroidery can be strategically placed on various parts of a hoodie, such as the chest, back, or hood, to create eye-catching designs. For areas that may not be suitable for direct embroidery, consider using embroidered patches or chevrons. These versatile embellishments can be sewn onto any part of the hoodie and can be easily added or removed as desired.
Conclusion: Enhance Your Wardrobe with Customized, Embroidered Hoodies
In summary, embroidered hoodies offer a stylish, original, and durable way to personalize your wardrobe or promote your brand. With countless design possibilities and embroidery placement options, you can create a unique piece of clothing that suits your individual style or business needs. Stand out from the crowd and elevate your fashion game with a customized, embroidered hoodie that showcases your personality and taste.