An unusual Woman machine embroidery design for a bag or T-shirt of a young girl or stylish woman. Modern style. You will not find the second same design. High quality of digitizing. You can always make any thing unique - such as in our photos. This is done by ordinary people. On a conventional sewing machine. With the materials that you will find in any clothing store.
Note: The design is not compatible with typewriters having only a hoop 4 h 4. The minimum hoop size is 5 х.7. A mandatory condition for embroidery is the use of a quality stabilizer.
Immediately upon download aforementioned embroidery design
get several options, discount, bonuses that admit use product 100%. Included benefits
| | | |
| --- | --- | --- |
| Listed sizes. No additional fees. | Safe buy, access design files beyond restrictions. We keep every orders. | Any format or all at once. Add or change an extension when needed. Receive obtained digital art again. |
|   |   |   |
Similar popular patterns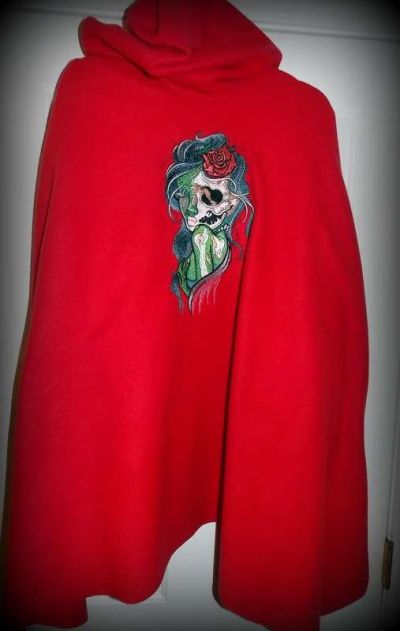 For the use of embroidery, you can use almost everything. But nevertheless, women's clothing is the traditional and most popular object for the use of machine embroidery as decorating and giving an individual style. Almost everything can be decorated with embroidery. Women's jacket or shirt and a strict business suit, pants and skirt. Everywhere appropriate application of embroidery. The most commonly used classic floral motifs or ornamental patterns. Less often you can see decorating with non-traditional embroidery. Large designs with landscapes or animal faces are used to decorate a denim jacket on the back. Even less often you can see products with extreme patterns such as tattoos or skulls. This embroidery is usually associated with sports motorcycle clubs. But nevertheless, the most courageous and bright representatives of the weaker sex go to an unusual step. This is the example we see here. Embroidered large tippet with skulls embroidered on the theme of Dead Beauty. Such a thing will definitely be individual. With such a product you always pay attention to yourself.
Good quality work. The patterns are dense and when working with them it is necessary to use high-quality stabilizers that will allow you to avoid problems of tissue deformation.