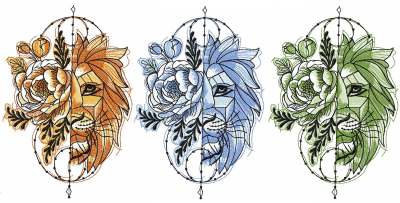 You may wish to consider other color combinations for this project. They can be found in our community and downloaded for free Alternative color charts for Fantastic Lion embroidery design on our community. In case you need a different color chart, please write to us.
Immediately after downloading the aforementioned embroidery design
get several options, discount, bonuses that admit use product 100%. Included benefits
| | | |
| --- | --- | --- |
| Listed sizes. No additional fees. | Safe buy, access design files beyond restrictions. We keep every orders. | Any format or all at once. Add or change an extension when needed. Receive obtained digital art again. |
|   |   |   |
Similar popular patterns


Comments
sewspoiled
on
Apr 25th, 2019
I do not have paypal. Do you take credit cards
Support
on
Apr 25th, 2019
You can pay in 2 ways.
1. Using PayPal, there is an option to pay with cards without opening an account in the system
2. Through the payment system BlueSnap.
sewspoiled
on
Apr 25th, 2019
Good morning Support Team,
Thank you for your reply. Please could you also advise me how I can avoid having to purchase colour charts for all future designs.
It is still all a little confusing as to why I can see the designs on the website in the correct colour, yet when I download them they are a total different colour.
I have been in contact with the Bernina Agents in Pietermaritzburg and have been told that the designs should download in the correct colour and not in a totally different colour palette, I then just need to check my Mettler thread colour chart to obtain the the thread shade number.
esigns ordered and requiring correct colour charts are:
9074 - Tigers eyes
3617 - Chase from Paw Patrol
13704 - Mosaic Wolf
3671 - Marshal from Paw Patrol.
Kind regards
Support
on
Apr 25th, 2019
Agents are not exactly right.
Currently, 74 color tables are used in the world. Each brand and each company uses its own color table. Universal no.
Therefore, sometimes files created on another system may appear differently on different embroidery machines.
To solve this problem. A color chart is attached to the files. When embroidering, the user chooses colors using it.
We are completely free to provide a table of colors in the desired palette.
Mettler has them 2. Embroidery classic and Poly Sheen.
Which do you need? We are waiting for information from you.
MelissaKL
on
May 23rd, 2019
I love love love this design. This is the first design I did with my new embroidery machine and it turned out awesome! My granddaughter loves it! Thank you!
LeAnnWood
on
Jun 28th, 2019
I have made a ton of shirts and dresses with this design on them!! I love it!! Gorgeous lion! Works up very well.
SewphisticatedGifts
on
Sep 3rd, 2019
Great quality, reasonable price!!! Thank you. Love how your designs always stitch out beautifully. Can't wait to get more!
Griffter
on
Sep 30th, 2019
Is it possible to get an embroidery design scaled down to fit my machine?
Thank you
Support
on
Sep 30th, 2019
Griffter: Yes it is possible. But not for all designs. Please send us a list of designs you want to buy.
SerenaLaka
on
Jan 31st, 2021
I have not used this yet, but I have shared the picture of it with my friends, they are waiting for me to actually put it on something!!!
You must be logged in to leave a reply.
Login »