Immediately after downloading the aforementioned embroidery design
get several options, discount, bonuses that admit use product 100%. Included benefits
| | | |
| --- | --- | --- |
| Listed sizes. No additional fees. | Safe buy, access design files beyond restrictions. We keep every orders. | Any format or all at once. Add or change an extension when needed. Receive obtained digital art again. |
|   |   |   |
Similar popular patterns


Comments
Beautiful Teddy Design.. Stitched out perfectly! Love it!! Love this shops items! Many thanks!
I love this baby teddy so beautiful Thank you. Use it for my small embroidery and quilt shop. Same as ETSY.
Hayotsyan
on
Jul 5th, 2018
The teddy bear was really cute when done. The color chart was alittle confusing but able to figure out.
Fast delivery and stitched out beautifully!! Awesome. Thanks for the file.
AliColato
on
Sep 3rd, 2019
Super, super cute and everybody loved this design. Was perfect for my project and the price is great!
VickeyCoble
on
Sep 26th, 2019
This sweet teddy bear stitched out perfectly. Just as pictured, thank you! Will definitely order from your shop again!
XiomaraRomero
on
Apr 10th, 2021
This design stitched our perfectly and looks awesome on a baby bib for my friends and she loved it.
You must be logged in to leave a reply.
Login »
Beautiful design with a teddy bear and a bottle for milk. A great option for decorating various products for newborns and children. The project is medium density. Contains 4 different sizes. The minimum size of 4 x 4 inches is compatible with any type of embroidery machine. The author's color chart is available in the order history and on the product page.
A great choice when you need to do embroidery on the bib. This is the project you can see in the photo of our user. For embroidery on children's things, use viscose threads - a thickness of 40.
Machine embroidery design is a file in digital format for your embroidery machine. For the transfer it (to USB stick, flash card, reader/writer, floppy disc) is not required to purchase additional software.
How can this design be used.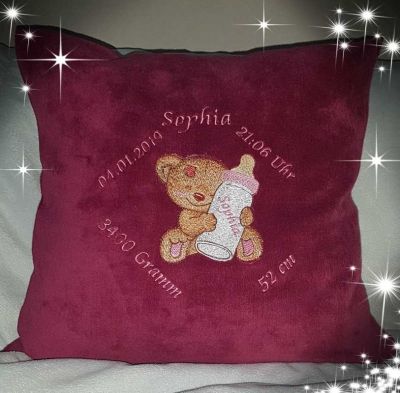 A simple gift for a newborn. A pillow with an embroidered teddy bear will be a great decoration for a child's room. Bright and cute decoration. Embroidery pillows is another way to decorate the interior of the apartment. Embroidery baby pillows or decorative pillows with embroidery will be a great decoration. If there is still a pillow, its shape and color, matched to the interior of the room, then they will certainly attract attention to themselves.
The pattern on the decorative pillow with embroidery can be absolutely anything. This could be, for example, embroidery of a pillow with flowers, some patterns, nominal pillows with embroidery or any other image that you see fit to embroider on a pillow.
Pillow embroidery comes in a cut. That is, the pillow cover is embroidered first, and only then the pillow is filled with filler and sewn. The size of the pillow can be absolutely anything, since there are no blanks from which the pillows are sewn.
Machine embroidery in a cut allows you to embroider images of maximum sizes on a limited piece of material. Depending on the purpose of the pillows, there is a choice of material.