Please look similar popular patterns.
Comments
Posted by
mmelito3
on
Aug 25th, 2018
I love how this stitched out. It made a perfect embroidered quilt label for a birthday quilt. Beautiful digitizing.
Posted by
wendyangel13
on
Sep 6th, 2019
Stitches out very nicely. This is a popular design with my customers for their daughters' b-day parties. Cute and lovely
Posted by
Sara1976
on
Nov 9th, 2019
Stitched out beautifully. Perfect for my granddaughter's birthday party! Very happy with purchase!
Posted by
QueenKateyy
on
Mar 17th, 2020
I made all kinds of decor for my daughters 2nd birthday with this design. Thank you it was great quality!!
You must be logged in to leave a reply.
Login »
How to use this design.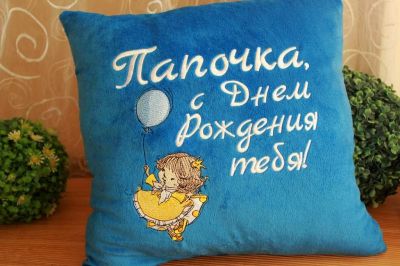 It is difficult to make gifts. In stores you can buy any thing, any color, any size. We'll have to use fantasy, creativity and crafts skills. To make it fast and high quality, it is better to use an embroidery machine and your own hands. We make gifts with our own hands and give them to close people. Beautiful pillow with embroidery as a gift from a child. Memorable signature expresses a great feeling of love. And the embroidered design of the girl will remind from whom the gift was made. For the basis of the manufacture of such a pillow, you can use the already purchased store-bought or use the pattern from the Internet.
Our benefits:

Instant download design after paid


Over 14 embroidery formats

Tested embroidery designs


Progressive discount system

Several sizes with one payment

No VAT and FEE , we pay it.

Additional bonus free embroidery designs



New embroidery projects
with our works
New free embroidery designs
available only for customers via our Reward Points program
Last photos 
All photos with our embroidery designs in Gallery
Look at a huge number of beautiful and successful real projects with our work. You can us tags for search.