Please look similar popular patterns.
Comments
No comments. Leave a comment ...
You must be logged in to leave a reply.
Login »
How to use this design.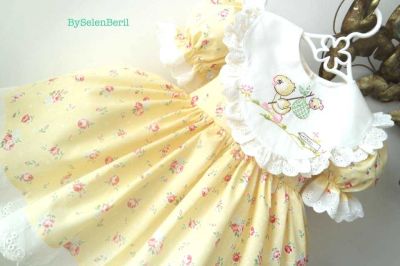 This design is very popular for use for children's things. According to our statistics, over 90% of our users embroidered it on children's summer t-shirts or dresses. You can also decorate the night pajamas. A rarer version of linen or baseball cap. Easy practical project. For any kind of fabric.
Remaking a child's dress: Materials that you will need.
Knitted t-shirt
Cotton fabric
Detachable stabilizer with a density of 60-80 grams per meter from the company Salki. or Filmoplas
Water soluble stabilizer (film) of Avalon type
Machine Embroidery Top Thread
Machine embroidery bobbin thread
Machine Embroidery Design
Sewing embroidery or embroidery machine
Embroidery machine hoop and mesh pattern
New embroidery projects
with our works
Last photos 
All photos with our embroidery designs in Gallery
Look at a huge number of beautiful and successful real projects with our work. You can us tags for search.