Embroidered pillowcase with cute ballerina design
Embroidering a pillowcase is an easy matter, even for a person that doesn't have much experience in machine embroidery. Let's use this cute ballet embroidery design as an example.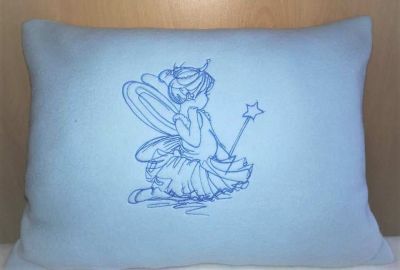 You can place the design on the cuff of the pillowcase, or in any other place you like. If you wish to embroider the cuff, take care to open the seam on the edge beforehand in order to prevent puckering.
Like all bed covering, pillowcases are most often made of percale — a medium weight closely woven fabric with a smooth surface. Cotton, polyester and a variety of blends may be used as fibers. Some percale fabrics are thinner than the others. For a thick percale fabric, a cutaway stabilizer will be the best choice, but for a thin one, you may want a fine-quality tearaway one. A soft stabilizer is preferable, for the obvious reason that you wouldn't want your pillow to be too coarse and scratchy to sleep upon.
Besides your pillowcase, the Ballerina embroidery design, and the stabilizer, you'll need the usual set of tools: a hoop, an erasable pen, embroidery threads, and scissors.
Place your template where you want the design to be, and mark the center point, the vertical and horizontal axis lines with your pen.
75/11 needles will be the best for the job. They won't make visible holes in the fabric. As for the threads, you may use any color you like. Even the light-colored threads look nice and clear on white bed linen. Remember that rayon and polyester threads will remain bright for a long time.
Insert the inner hoop inside the pillowcase. Now place the outer hoop on top of the pillowcase. Before tightening the screw, pull the fabric all the way around, so that it is smooth and tight — nobody wants a heavily wrinkled design, right?
Insert the hoop into your machine, and load the design. Position your needle above the center point of the design and hit the button. When the machine has finished stitching, take the hoop out, loosen it, trim or tear away the extra stabilizer and fold the cuff back. Secure it with pins and sew the hem. After washing, press an embroidered pillowcase with a dry iron and use the pressing cloth. No steam! The steam will cause puckering.
Comments
No comments. Leave a comment ...
You must be logged in to leave a reply.
Login »
Last photos 
All photos with our embroidery designs in Gallery
Look at a huge number of beautiful and successful real projects with our work. You can us tags for search.